Epidemiology of infertilty in kano, north-west Nigeria
Keywords:
Epidemiology, Infertility, Kano
Abstract
INTRODUCTION: Infertility is a global problem with the highest prevalence in sub-Saharan Africa. Despite the high prevalence it has been a relatively neglected problem, overshadowed by seemingly greater concerns such as maternal mortality.
OBJECTIVES: The aim of  this study is to identify the prevalence, clinical pattern and causes of infertility among gynaecological patients in Aminu Kano Teaching Hospital.
METHODOLOGY: It was a retrospective study of infertile patients who  presented at  the gynaecology clinic of Aminu Kano Teaching Hospital, between 1st January 2016 and 31st December 2017.
RESULTS: The prevalence of infertility was 16%. The ages of the patients ranged from 18 to 46 years, with a mean age of 28.72+6.0 years. The mean duration of infertility was 5.97 ± 4.19 years with maximum duration of 28 years. Majority of the patients had secondary infertility (53%) while 47% had primary infertility. Female factors accounted for 44.6% of the infertility, while male factors accounted for 23%. Among the female causes of infertility tubal factors accounted for 46%, ovulatory factors accounted for 41% while uterine factors accounted for 13%.
CONCLUSION: Prompt diagnosis of infection and adequate treatment will go a long way in preventing the dreaded sequelae of infertility.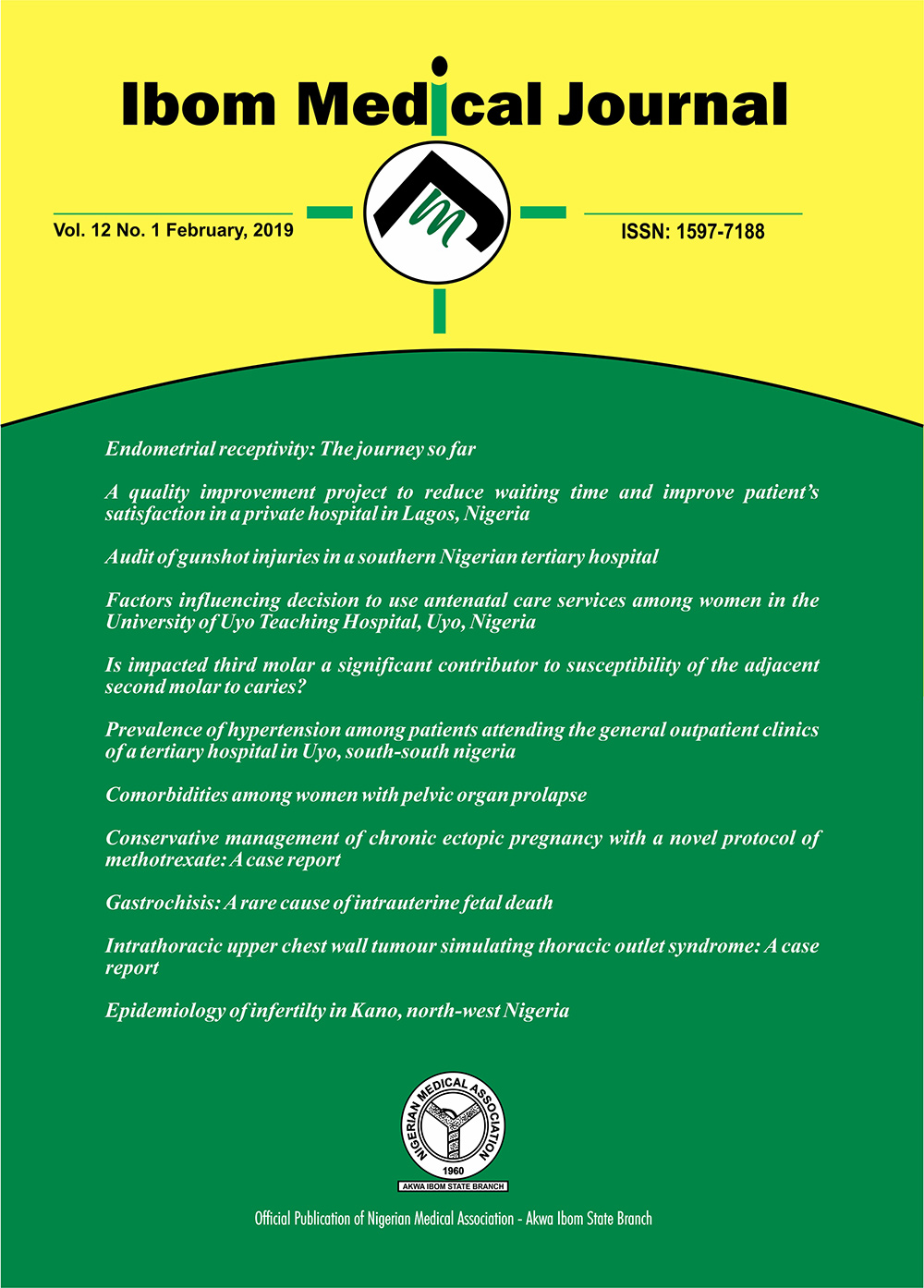 License
Copyright (c) 2019 Ibom Medical Journal
This work is licensed under a Creative Commons Attribution 4.0 International License.