Knowledge, practice and correlates of compliance to safety precautions: Across-sectional study
Keywords:
Knowledge, practice, safety, universal, precaution, health, care
Abstract
Background: Universal safety precaution (USP), a concept aimed at protecting health care workers (HCW) from acquiring infection following accidental exposures to infected blood and body products (BBP). Knowledge and practice have been a huge challenge to HCW despite the grave consequences of exposure.
Objective: The study aims to ascertain level of knowledge and practice and to determine correlates of compliance among Primary Health Care Workers in Rivers State.
Material and method: The study was a cross sectional observational study which involves HCW in selected primary Health care centers (PHCC) in Rivers State. It involves the use of semi structured self-administered pre tested questionnaire and an observational check list. A multistage sampling technique was used.
Data was analyzed using statistical package for social sciences (SPSS) version 17 statistical software. Categorical data was analyzed using chi square test while students T- test was used for quantitative data. Level of statistical significance was set at 0.05.
Result: A total of 366 respondents participated in the study with 108(29.5%) males and 258(70.5%) females, while 125(34.2%) of respondents were aged 30-39 years and 50(13.7%) respondents were ≥50 years. More doctors 38(76%) complied with safety practice than nurses 19(31.7%). Compliance was higher in female HCW than males 111(43.0%) and 34(31.5%) respectively.
Conclusion: knowledge and practice of USP among HCW was abysmal, several factors were highlighted as reasons for poor compliance. Measures therefore must be taken by responsible authority to address these shortfall.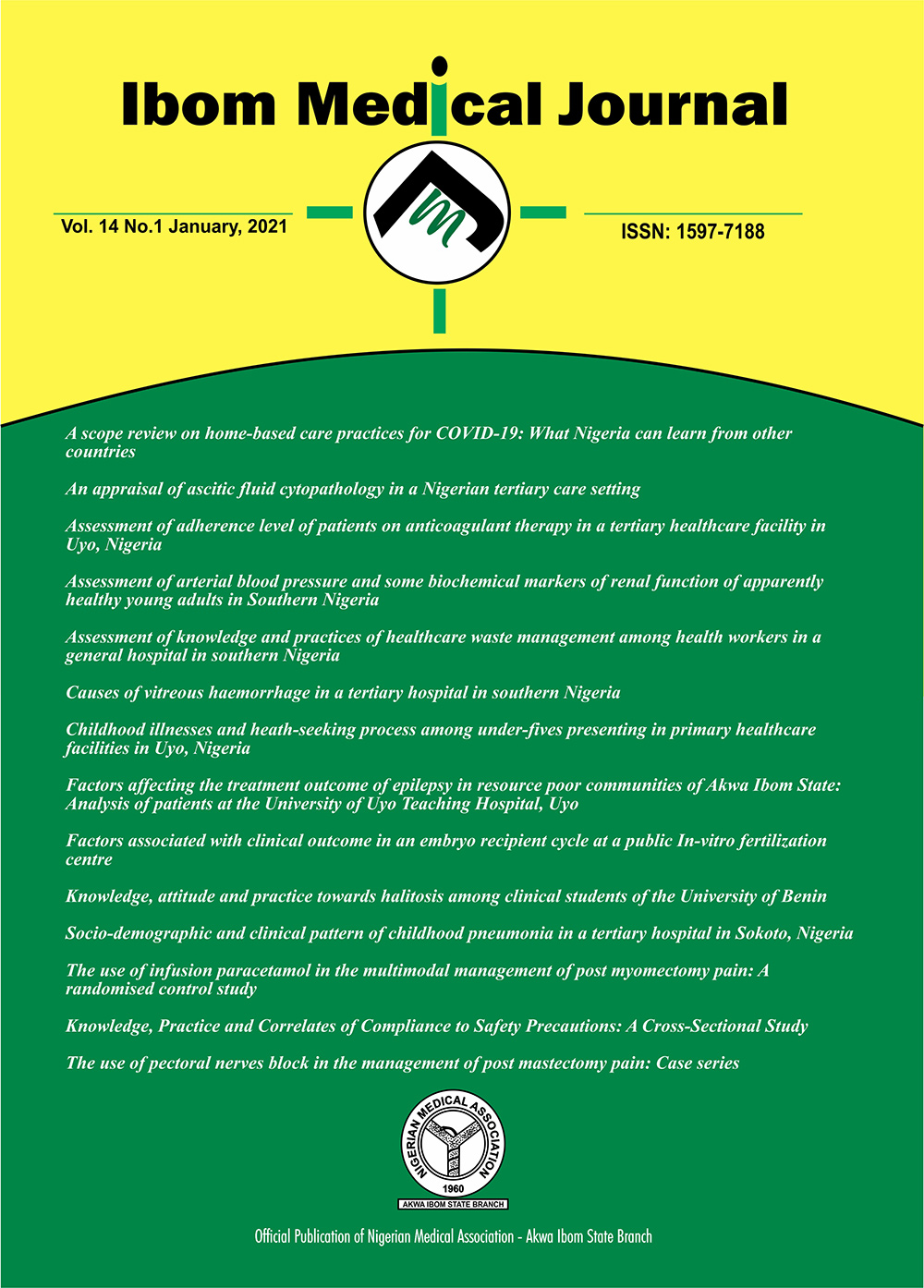 License
Copyright (c) 2021 Ogbondah BO
This work is licensed under a Creative Commons Attribution 4.0 International License.