Domestic violence among women attending ante natal care in a tertiary health facility in south-south Nigeria
Keywords:
Domestic, violence, effects, predictors, prevalence, pregnant, women
Abstract
Background: Domestic violence is a preventable public health problem that is under reported and under diagnosed. Women are usually the most affected and presents with serious psycho-social, physical and reproductive health implications. It violates the fundamental human right of victims and associated with perinatal and maternal morbidity and mortality.
Methodology: The study was a cross sectional descriptive study, conducted among pregnant women attending ante-natal care (ANC) at the ante natal care clinic of the department of Obstetrics and Gynecology (O and G), university of Port Harcourt Teaching Hospital. All eligible pregnant women who visited the ANC clinic were enlisted for the study until the required sample size was attained. Study instrument included a pretested, adapted, interviewer administered, questionnaire which was prepared in English language. Results were presented in simple frequency distribution table while data was analyzed using SPSS version 22.0. Categorical data were analyzed using chi-square test. Ethical clearance was granted by the hospitals ethical committee while permission for the study was also derived from the department of O and G and the Hospital Management.
Result: Results from the study revealed a statistically significant association between alcohol, cigarette ingestion and domestic violence. Results also shows associated risk factors to domestic violence such as low income, religion, poor educational background and unemployment.
Conclusion: Domestic violence is a breach of fundamental human right of those abused. It is significantly associated with alcohol and cigarette ingestion, while it is associated with young age of couple, cohabitation, poor educational background and duration of marriage. Improving women empowerment and education could help curb this social vice.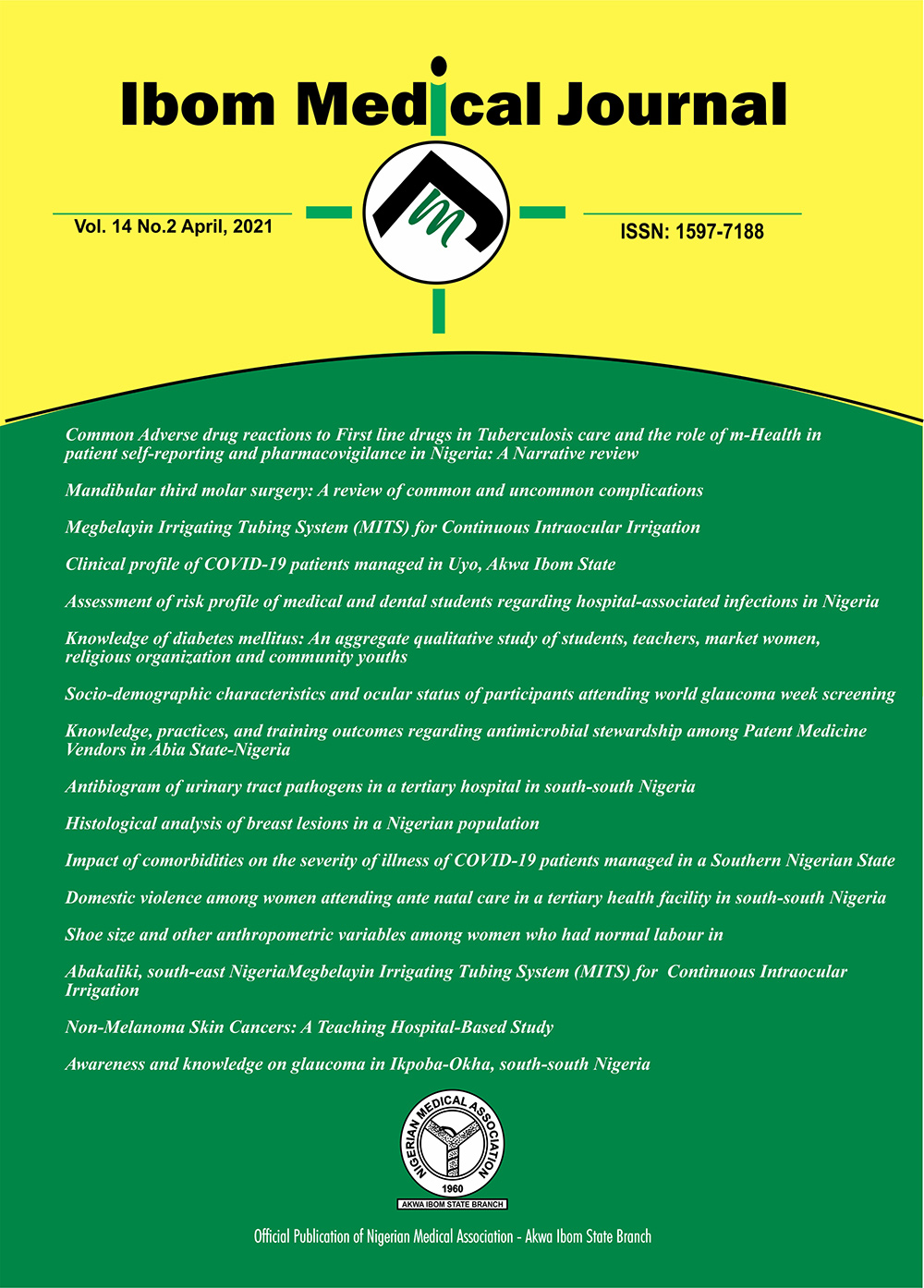 License
Copyright (c) 2021 Ibom Medical Journal
This work is licensed under a Creative Commons Attribution 4.0 International License.