COVID-19 Vaccination: Infectivity and Symptomaticity of SARS- COV-2 among residents in Bonny Island, Rivers State, Nigeria
Keywords:
COVID-19, vaccination, symptoms
Abstract
Background: In December 2019, the severe acute respiratory syndrome Coronavirus 2 (SARS-COV-2) popularly called COVID-19 emerged. The disease is associated with asymptomatic, mild to severe respiratory symptoms. Use of Vaccine is essential in its control and in Bonny Island, the AstraZeneca chAdOx 1 novel Coronavirus 2019 vaccine was used. Study objective is to determine the effectiveness of this vaccine in preventing infection and symptoms associated with the virus on residents of Bonny Island.
Method: Study is a facility based cross-sectional study, conducted between May and October 2021, at General Hospital Bonny, a COVID 19 testing and vaccination center. Study population were respondents who had previously been vaccinated for Covid-19 that visited the facility for COVID-19 PCR test. All eligible respondents were enlisted into the study until the sample size of 623 was achieved. Interviewer administered questionnaire was used to collect information on socio-demographics and medical history including vaccination status. Multivariate regression analysis using SPSS version 21.0 was used to analyze data with statistical significance set at 0.05. Ethical clearance and permission for the study were granted by appropriate authority while informed consent was extracted from respondents.
Result: There was statistically significant association between COVID-19 vaccination and negative COVID-19 PCR test result (OR 5.98), married couple and age (0-20 and 21-30 years the most and least compliant respectively). There was no significant relationship between symptoms associated with COVID-19 infection and vaccination status.
Conclusion: COVID-19 vaccination uptake protects against COVID 19 infection but does not have any significant effect on symptoms associated with the infection. Married couple and respondents aged 0-20 years were more compliant to vaccine uptake.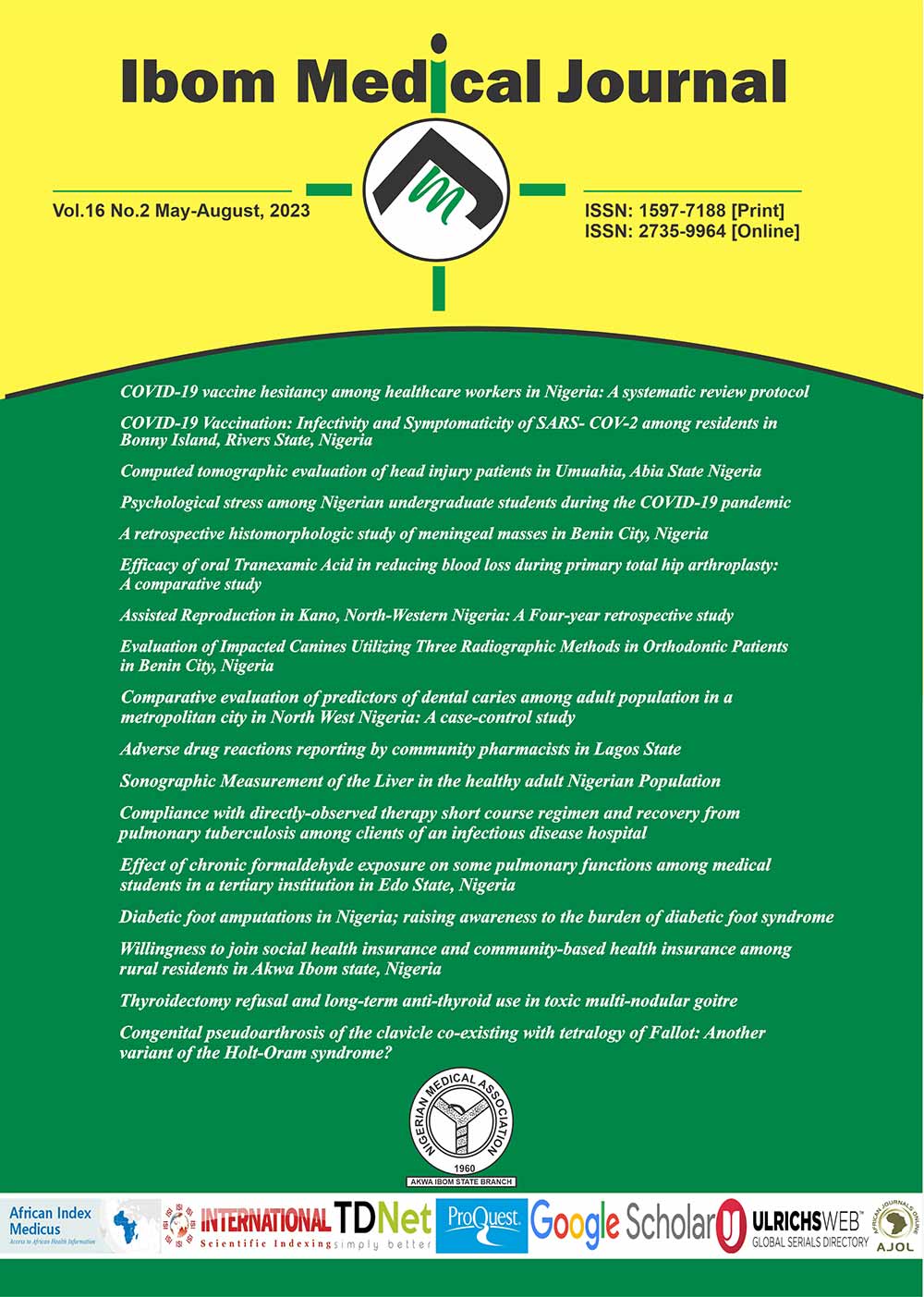 Published
01-05-2023 — Updated on 01-05-2023
License
Copyright (c) 2023 Ibom Medical Journal
This work is licensed under a Creative Commons Attribution 4.0 International License.