Extensive interstitial emphysema complicating blunt chest injury
Keywords:
Interstitial emphysema, chest injury
Abstract
We report the case of a 50-year old farmer who sustained multiple injuries during involvement in a road traffic accident. He sustained blunt chest injury with left lower rib fractures, partial pneumothorax in an area of pleural symphysis, extensive interstitial emphysema, and closed fracture of left femoral shaft.
Initial presentation was to a general hospital and then a private hospital  where he was managed during the first five days of the injuries. Since no specific treatment was given to either the pneumothorax or the interstitial emphysema, the latter continued to progress to a frightening and life-threatening proportion thereby necessitating referral to our centre on the sixth post-injury day.
Examination showed a middle aged man that was 'ballooned' from face to legs, in respiratory distress, breathing through an opened mouth, complete and bilateral ptosis due to swollen / ballooned eyelids, and talked with 'nasal voice'. There were extensive subcutaneous crepitus from the face to the legs, positive chest compression tenderness over left lower aspect, hyper resonant percussion note, and diminished intensity breath sound worse over left lower lung zone, and widespread crepitations. The trachea was centrally located. Examination of the left lower limb revealed simple fracture of left femoral shaft.
The clinical diagnoses of blunt chest injury with left lower rib fractures and partial left pneumothorax and extensive interstitial emphysema, and closed left femoral fracture were confirmed radiologically. The patient was successfully treated with left closed tube thoracostomy drainage, supplemental oxygen therapy, analgesic and supplementary parenteral nutrition, with complete resolution of interstitial emphysema by the eighth post-
intubation day.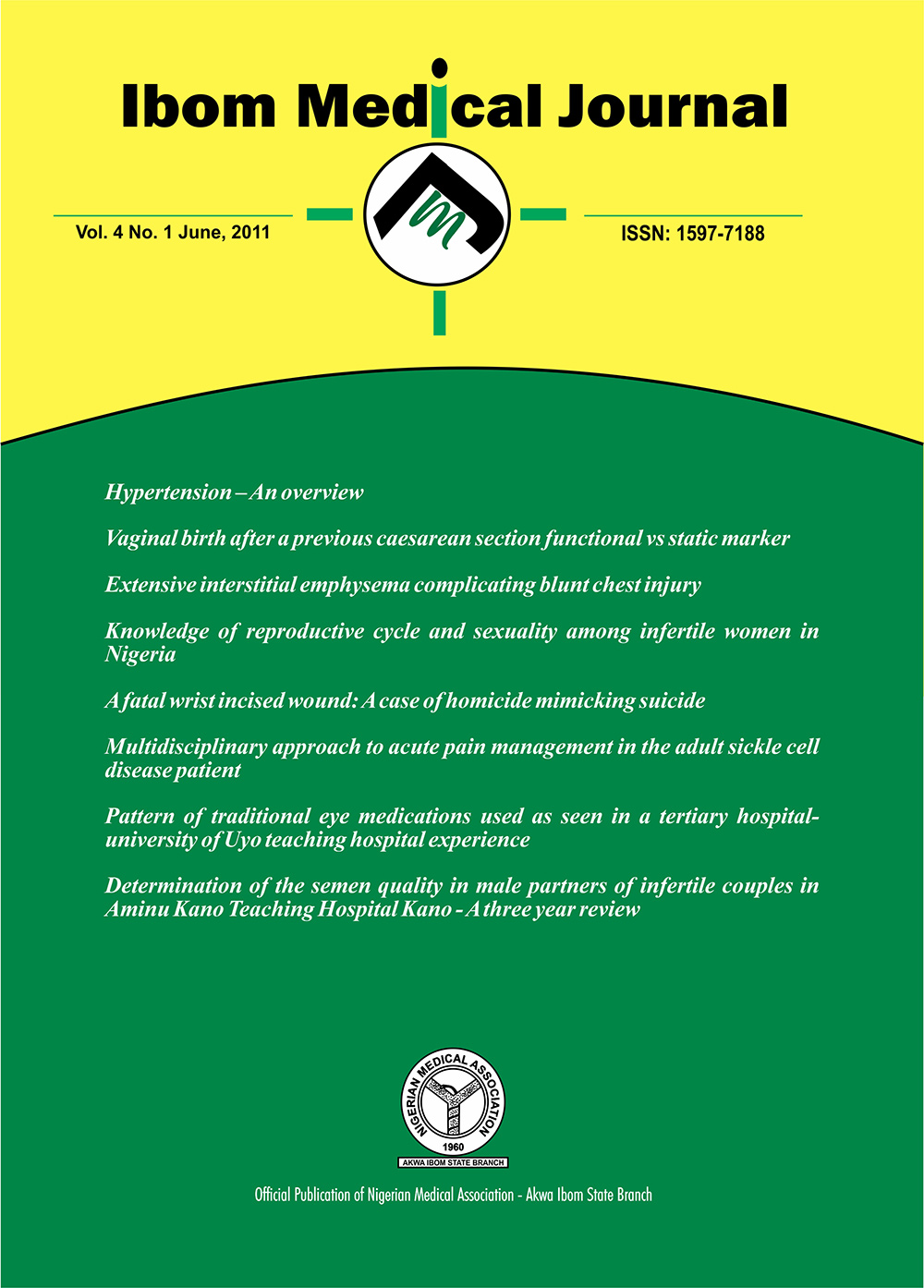 Additional Files
License
Copyright (c) 2011 Ibom Medical Journal
This work is licensed under a Creative Commons Attribution 4.0 International License.