Audit of gunshot injuries in a southern Nigerian tertiary hospital
Keywords:
Gunshot injury, Trauma registry, Nigeria
Abstract
Background: There is a dearth of data on ballistic related injury from developing countries. The pattern of gunshot injuries from Uyo, Akwa-Ibom State is yet to be evaluated. The aim of this study was to evaluate the pattern of gunshot injuries presenting to the tertiary hospital in Uyo, Akwa-Ibom State over a 22 month period from 2013 to 2014, using data from the trauma registry at the University of Uyo Teaching Hospital.
Methods: A retrospective study. Data on gunshot injuries in 2013 and 2014 was abstracted from the trauma registry.
Results: Twenty-seven patients sustained gunshot injury over the period of the study. The male to female ratio was 5.8:1. Mean age was 34 years. Median time to presentation was 5.1 hours (IQR) (2.9 - 10.4). Seventy percent of injuries occurred at home or on the road. Twenty six percent of injuries occurred in the trunk.  The low to medium socioeconomic group had 88.9% of the patients.
Conclusion: The pattern of gunshot injuries in Uyo, Akwa-Ibom State are similar to that found in other non-combatant zones of Nigeria. However, it was noted that the numbers per year were relatively fewer than those from the South-West of Nigeria; most patients were from the low to medium socioeconomic group.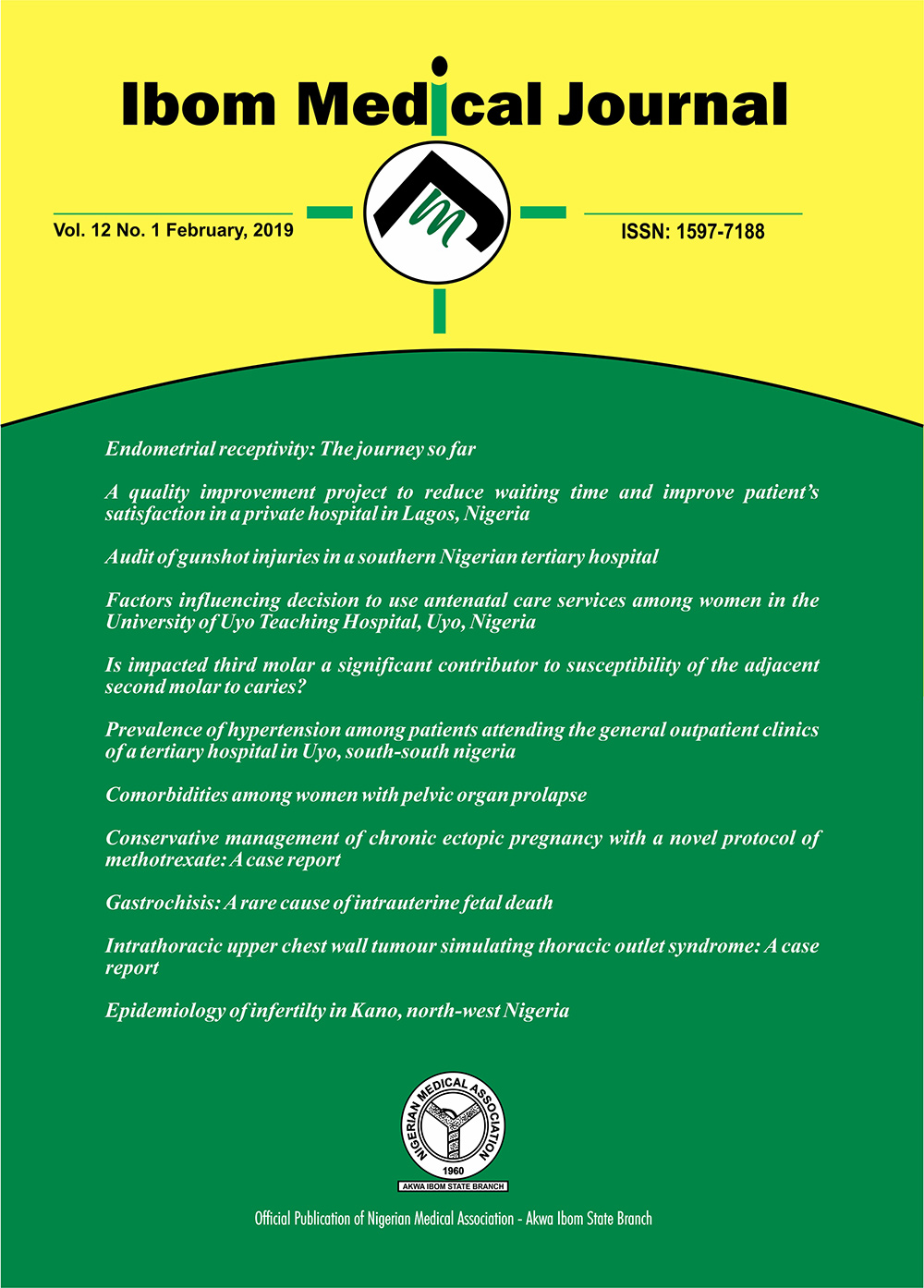 License
Copyright (c) 2019 Nottidge TE, Ekpe EE, Dim UME, Nottidge BA
This work is licensed under a Creative Commons Attribution 4.0 International License.