Prevalence and Determinants of the use of Enema in under-five children in Akwa Ibom State
Keywords:
Enema, Under-fives, Mothers, Akwa Ibom
Abstract
Background: Use of enema in children across clinical and community settings are associated with risks. This study seeks to determine the prevalence of enema practice in under-five children, substances used as enema and the reasons for enema practice by mothers.
Materials and Methods: This was a descriptive cross sectional study among 252 consecutively recruited mothers of under-five children attending immunization/well babies clinics in 2 health centres in Akwa Ibom state using a semi-structured self and interviewer administered questionnaire for data collection. Data were analyzed using Statistical Package for Social Sciences (SPSS) version 17.0 at a level of significance of P<0.05.
Results: One hundred and sixty-nine (67.1%) respondents had ever given enema to their children. Mothers (69.2%) administered enema to their children which most often (72.8%) was recommended to them by others. Herbal enema was preferred to chemical and plain water enema. Common reasons for enema administration were in preparation for administration of antimalarial to ensure its effectiveness (60.4%), to relief constipation (49.7%) and abdominal pains (46.7%) and treatment of fevers (41.4%). Predictors of enema practice were age of the child (OR 0.4, 95% CI 0.212-0.765, p=0.005) and ethnic origin of the mothers (OR 9.4,95% CI 4.024-22.104, p<0.001).
Conclusion: The practice of enema is common in the study area. Health practitioners should be aware of this practice in the communities, seek for this history during clinical consultation and make concerted effort in educating the mothers and other caregivers against this practice.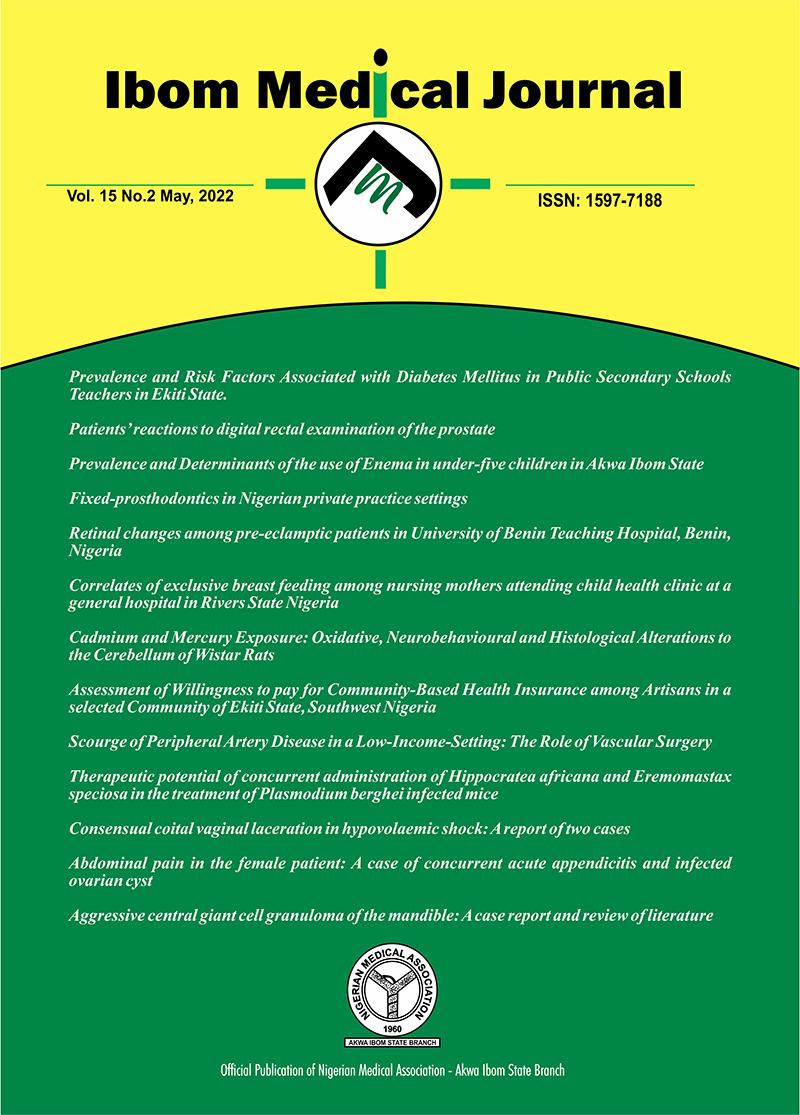 License
This work is licensed under a Creative Commons Attribution 4.0 International License.