Clinical profile of COVID-19 patients managed in Uyo, Akwa Ibom State
Keywords:
COVID-19, Clinical profile, Southern Nigeria
Abstract
Background: Coronavirus disease 2019 (COVID-19) is an acute viral infection caused by Severe Acute Respiratory Syndrome Coronavirus 2 (SARS-CoV-2). Although COVID-19 is predominantly a respiratory infection, the clinical manifestations of the disease can be variable, ranging from asymptomatic infection to critical illness. The disease was first reported in Nigeria in February 2020 and in Akwa Ibom State in April 2020. Being a novel disease, knowledge of its clinical manifestations has continued to evolve over the last one year and this study described the characteristics of all the patients hospitalized in the first six months of the pandemic in the state. This could improve case detection and early diagnosis.
Methods: This was a retrospective study of patients with COVID-19 managed in the Isolation Centre in Akwa Ibom State, Nigeria from April 1 - September 30, 2020. Socio-demographic and clinical characteristics of the patients were recorded using a proforma. Descriptive statistics of the variables was done using the statistical package for social sciences (SPSS) version 23.
Results: One hundred and forty-seven patients were admitted during the study period. The majority (70.1%) of the patients were males. The most common symptoms of COVID-19 were fever (38.1%), cough (31.3%) and anosmia (28.3%). There was no statistically significant gender difference in the clinical features of the patients.
Conclusion: COVID-19 infection is more common in male patients in Akwa Ibom State. Fever, cough and anosmia are the three most common symptoms of COVID-19 in hospitalized patients in the state.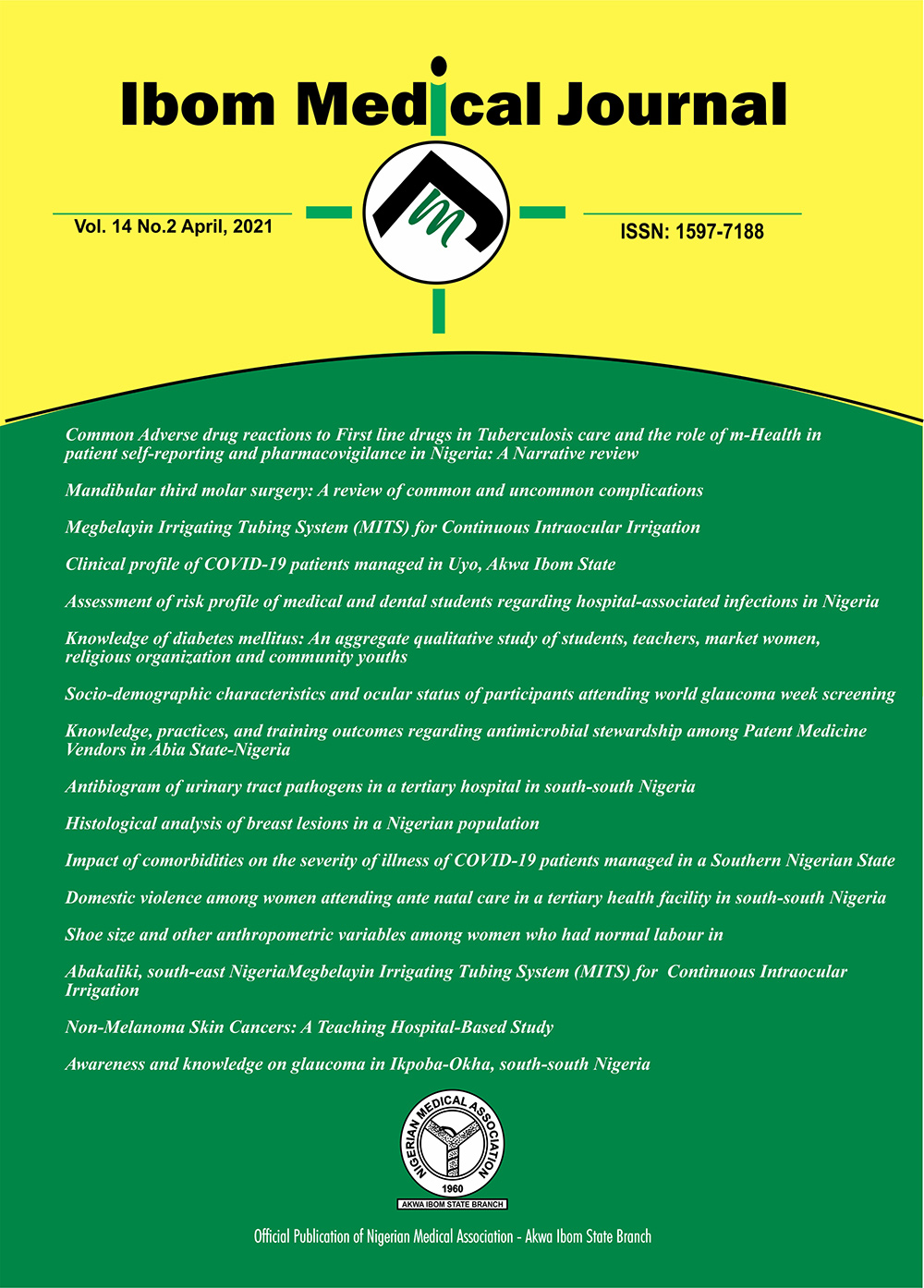 License
Copyright (c) 2021 Ibom Medical Journal
This work is licensed under a Creative Commons Attribution 4.0 International License.