Hand washing practices at critical times among mothers in selected health facilities in Akwa Ibom State
Keywords:
Mothers/ caregivers, hand washing, Practice, Uyo
Abstract
Background: Poor hygiene practices, unsafe water supply and inadequate sanitation are important causes of diarrhoeal disease, one of the biggest killers of children in developing countries. Hand washing with soap and water, a simple act notably ignored, is known to significantly reduce diarrhoea risk by almost half. This study assessed the practices of hand washing with soap at critical times and the determinants of good hand washing practices among caregivers of under-five children in selected health facilities in Uyo.
Materials and Methods- A descriptive cross sectional study was carried out among mothers and caregivers of under-five children in two selected primary health facilities in two local government areas in Uyo senatorial district of Akwa Ibom State who consecutively presented their babies for immunization. Data was collected using interviewer and self administered questionnaire on hand washing at critical times and type of hand washing practiced by mothers and analysed with SPSS version 17.0
Results: Two hundred and nineteen mothers /care givers participated in the study with a mean age of 27.9 + 5.4 years. All mothers had some form of formal education and majority (72.6%) were delivered of their babies in an orthodox setting. Sixty one point two percent, 47.0% and 84.9% always washed their hands before preparing food, before feeding child and after defecation respectively. Also, 25.6% and 51.6% always washed their hands before breastfeeding child and after cleaning up a child who defecates respectively .Sixty five (29.7%) were graded as having good hand washing practice,102 (46.6%)  had fair hand washing practice while fifty two (23.7%) had poor hand washing practice. Good hand washing practice was significantly associated with delivery setting (p=0.008), availability of water source in their residence (p=0.000) and the point of receiving immunization for their babies (p=0.000).
CONCLUSSION: Health workers should intensify health education messages in and outside health facilities on the benefits of good hand washing practice among mothers. The provision of water to every home, a factor that promotes good hand washing should be a priority of government if the task of reducing child mortality is ever to be achieved.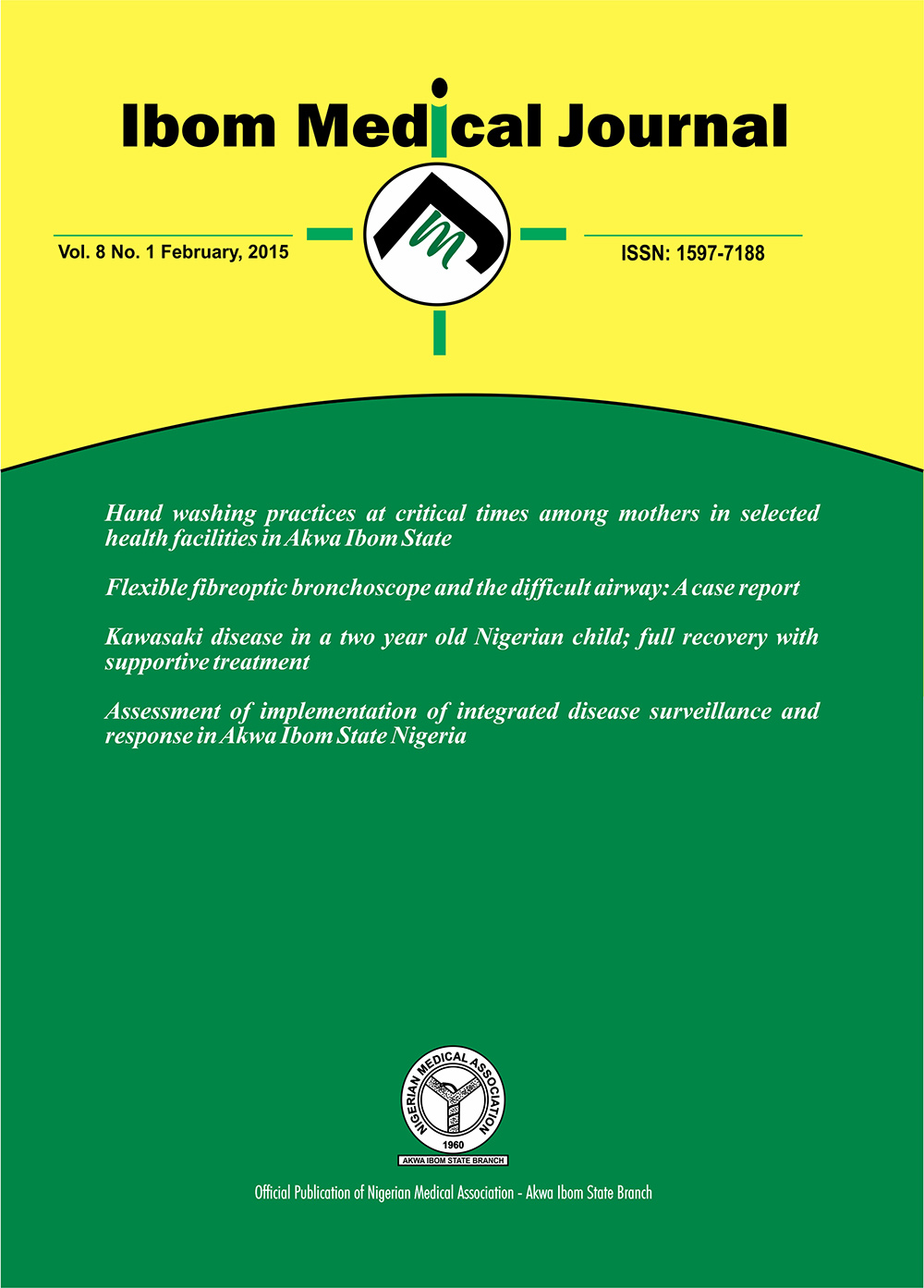 License
Copyright (c) 2015 Ibom Medical Journal
This work is licensed under a Creative Commons Attribution 4.0 International License.