Determination of the semen quality in male partners of infertile couples in Aminu Kano Teaching Hospital, Kano: A three year review
Keywords:
seminal fluid, male factor, infertility, Kano
Abstract
Context
Male infertility contributes a lot to the causes of infertility among couples attending Gynaecology clinics in our environment.
Objectives:
To determine semen quality in male partners of infertile couples attending Gynaecology Clinic in Aminu Kano Teaching Hospital, and to describe the pattern of abnormality found among the semen samples.
Methodology:
Reports of semen samples submitted to the andrology laboratory of AKTH Kano, over a period of three years, were analysed
Results:
A total of 558 semen samples were analysed for semen quality  out of 562 samples over the three-year period.
Two hundred and eleven (37.8%) had normal semen quality or parameters, while 347 (62.2%) had abnormal semen quality or parameters. The abnormal semen parameters consisted of low sperm volume (25.8%), prolonged liquefaction time (27.2%), azoospermia (14.2%), oligozoospermia (39.4%), teratozoospermia (23.7%), asthenozoospermia (61.6%) and the combined
defect of Oligo-Asthenozoospermia (12.8%),Oligo-teratozoospermia (6.0%), Asthenozo-teratozoospermia (5.2%), oligo-astheno-teratozoospermia (11.6%).
Conclusion:
The study showed that abnormal semen parameters are a major contributor of male factor infertility in our environment. Efforts geared towards preventing the contributory factors will go a long way in alleviating the
agony of infertile couples due to male factors.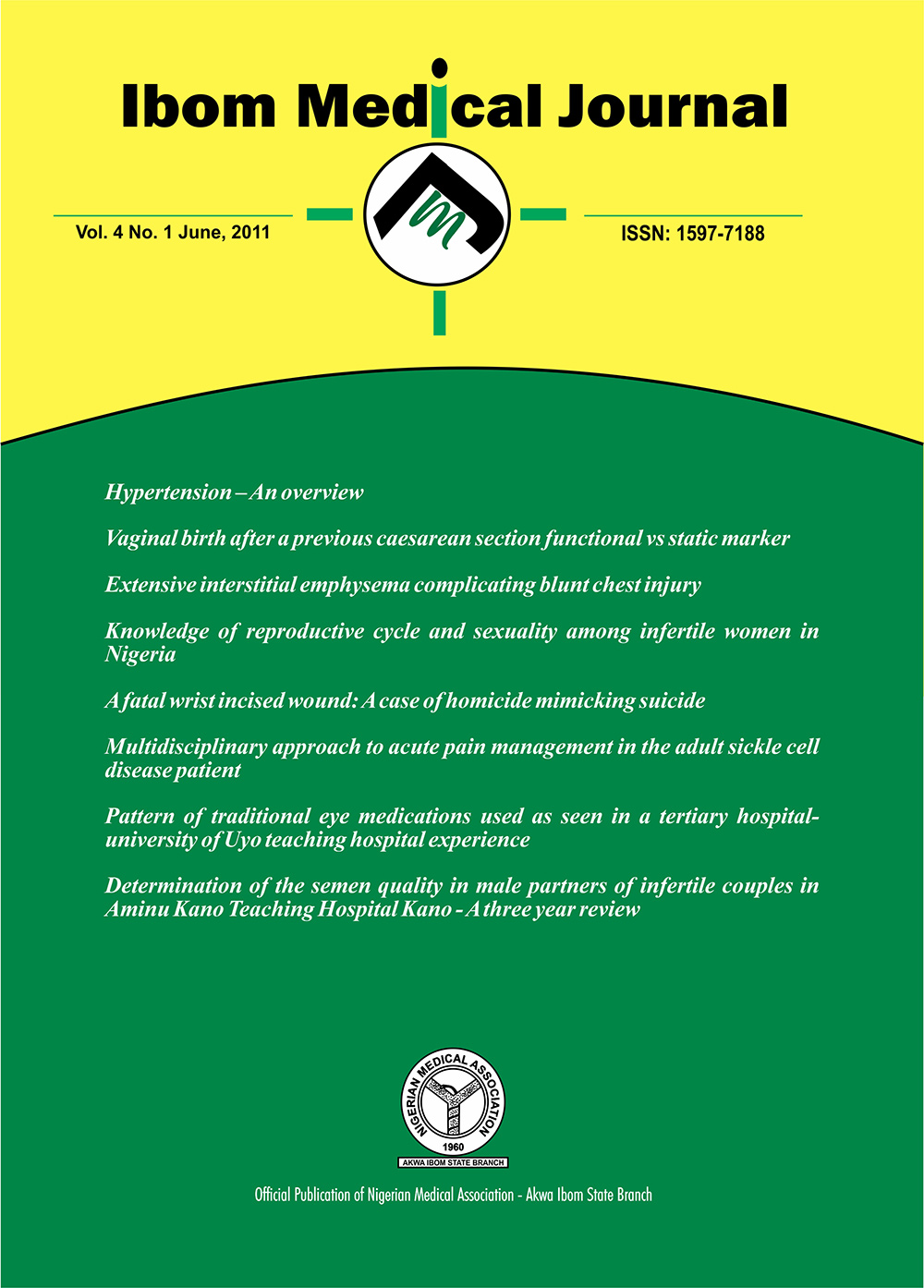 License
Copyright (c) 2011 Ibom Medical Journal
This work is licensed under a Creative Commons Attribution 4.0 International License.