Pattern of traditional eye medications use as seen in a tertiary hospital-university of Uyo Teaching Hospital experience
Keywords:
Traditional eye medication, eye medication, eye care, Uyo
Abstract
BACKGROUND: Traditional eye medications (TEM) are biologically based concoctions instilled into the eye to achieve a desired ocular therapeutic effect but its use, though widely practiced, has no sound scientific evidence in the treatment of eye diseases.
AIM: The aim of the study was to determine the prevalence and types of traditional eye medications in use in our environment.
MATERIALS AND METHOD: This was a retrospective study of new patients who presented in the eye clinic between January 2008 and December 2009.
RESULT
A total of 47 of the 5,416 patients (0.87%) that were seen within the study period recorded to have used TEM before presentation at the Eye clinic were used for the study. Four (4) records were discarded because of incomplete documentation. Data obtained was analysed with SPSS version 17 for windows package. Mean age was 37.7years. Prevalence of use TEM was0.87%. The most common form of TEM was herbal concoction/roots (32.2%).
 
CONCLUSION: The prevalence of TEM use is low but significant enough for definite steps to be taken by relevant authorities and eye care givers in educating the public. Primary eye care in the state should be upgraded and greater emphasis than it is now should be placed on the eye care during the training of nurses and community health extension workers.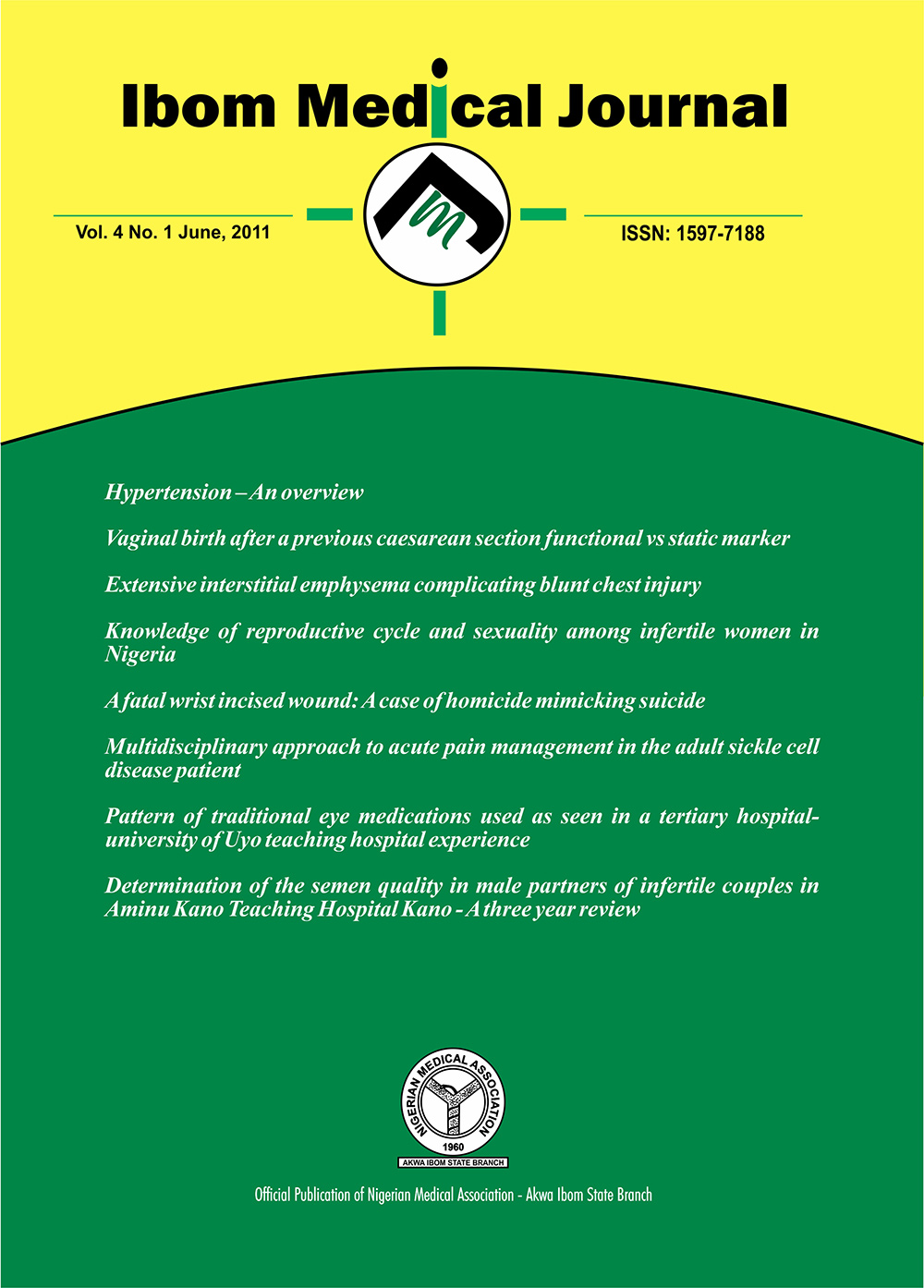 License
Copyright (c) 2011 Ibom Medical Journal
This work is licensed under a Creative Commons Attribution 4.0 International License.