Histological analysis of breast lesions in a Nigerian population
Keywords:
Breast lesions, Fibroadenoma, Invasive ductal carcinoma, Fibrocystic change, North Central Nigeria
Abstract
Context: Breast cancer is the most common site-specific cancer among women in Nigeria and globally, and it is a leading cause of cancer related fatalities.
Objective. This study documents the prevalence, histologic subtypes, relative frequency, and histopathologic characteristics of breast lesions seen in a North Central Nigerian population
Materials and Method: This was a retrospective review of all breast lesions diagnosed at the pathology department of a tertiary health institution in North Central Nigeria in a 5-year period.
Results: In the study period, 1081 patients had breast specimens taken, representing 8.6% of all specimens (12501) processed in the department. Of the 983 patients' whose specimens were included in this study, 954 were females (97%) and 29 (3%) were males, giving a female to male ratio of 32.9:1. The lesions consisted of 31 (3.2%) non neoplastic breast lesions (NBLs), 590 (60.0%) benign neoplastic breast lesions (BNBLs) and 362 (36.8%) malignant breast lesions (MBLs), with a BNBLs to MBLs ratio of 1.6:1. The most common BNBLs breast lesions seen during the study period was fibroadenoma (318/590, 53.9%), followed by fibrocystic change (186/590, 31.5%). The cancers were mostly carcinoma (98.3%) with invasive ductal carcinoma (300/362, 82.9%) being the most common followed by invasive medullary carcinoma (38/362, 10.5%).
Conclusion: Breast lesions are common lesions among females in our setting. A significant proportion of these lesions are malignant and affects young females. The histologic spectrum, demographic and histopathology characteristics are similar to previous reports in the country.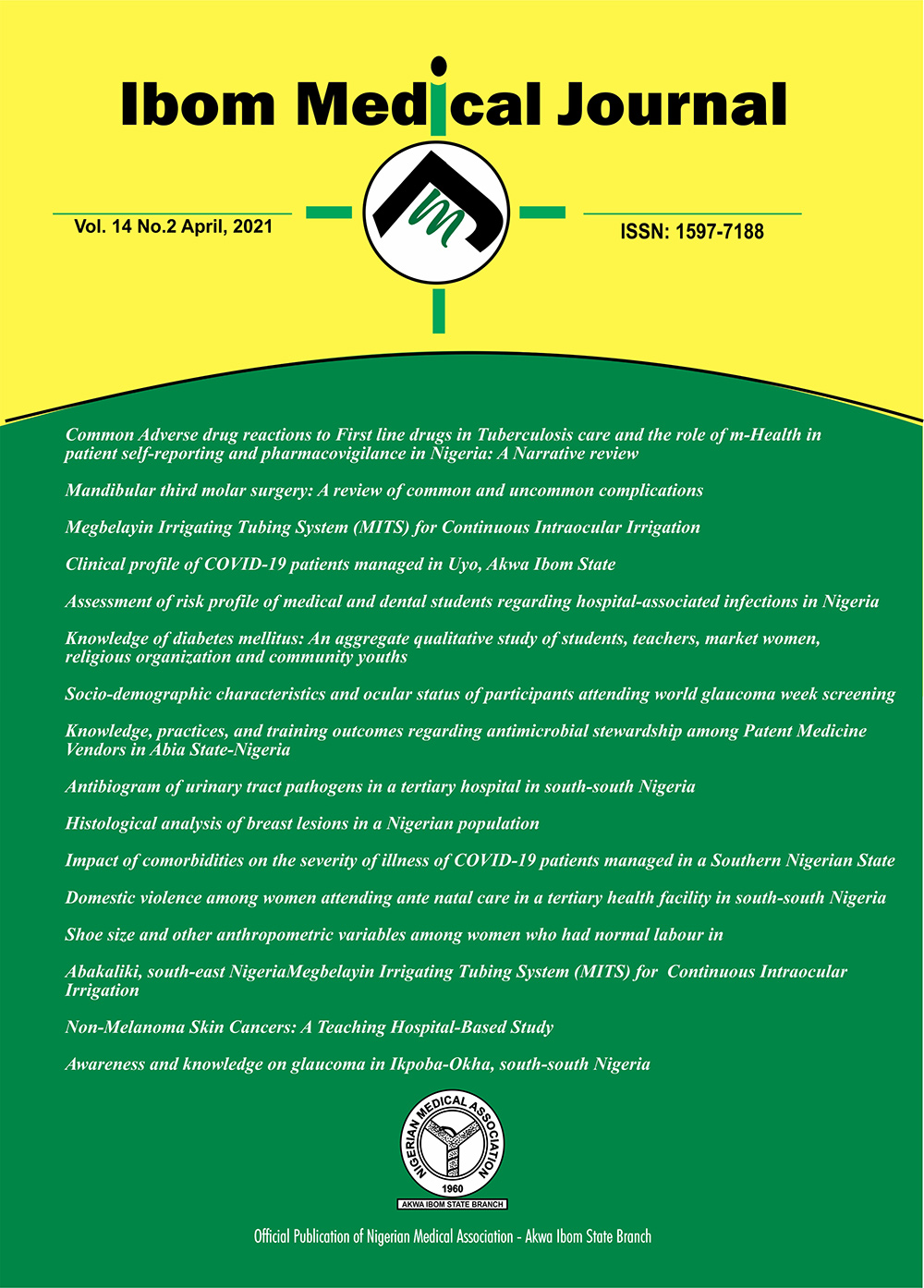 License
Copyright (c) 2021 Ibom Medical Journal
This work is licensed under a Creative Commons Attribution 4.0 International License.