Obesity among doctors: A pilot study in Port Harcourt, Nigeria
Keywords:
Obesity, Body Mass Index, non-communicable diseases, Overweight
Abstract
Background: Doctors are ambassadors for change through counselling of their clients, patients and the general populace on lifestyle modification, maintenance of ideal weight and avoidance of obesity. Due to the sedentary lifestyle of doctors and other healthcare personnel, they are found to be susceptible to obesity. Consumption of snacks, family history of obesity and lack of physical activity /exercise are predictors of obesity among doctors.
Objective: The general public is usually advised by doctors on a healthy lifestyle which includes maintaining ideal body weight but it has been observed that many healthcare providers do not necessarily keep to this advice. This study hopes to observe if the doctors are also keeping within the ideal body weight.
Methodology: This was a descriptive observational study conducted among medical doctors in Rivers State, Nigeria. The study was conducted in Port Harcourt which is the capital of Rivers State. A semi-structured self-administered 37-item questionnaire divided into five sections was used. Section 1: Demographics, Section 2: Short Form of the International Physical Activity questionnaire, Section 3: lifestyle and dietary habits, Section 4: medical history and Section 5: measurements. Random sampling was used.
The weight, height, waist circumference and hip circumference were measured. The weight was measured to the nearest 0.1kg and the height to the nearest 0.1cm using standardized measures and equipment while the waist circumference was measured using a tape measure to the nearest 0.1cm. The Body Mass Index was calculated and compared with the World Health Organization classification of obesity.
Results: The number of research participants was102 doctors were recruited, Frequency (%) for each weight category - 2.9% underweight, 6.9% normal weight, 62.7% overweight, 21.6% Class 1 obesity, 2.0% Class 2 obesity and 3.9% Class 3 obesity.
Conclusion: Despite the advice given to patients to avoid obesity and maintain an ideal weight, some doctors are obese. This predisposes them to non-communicable disease. They also consume sugared drinks. Doctors need to practice the counselling given to patients/clients.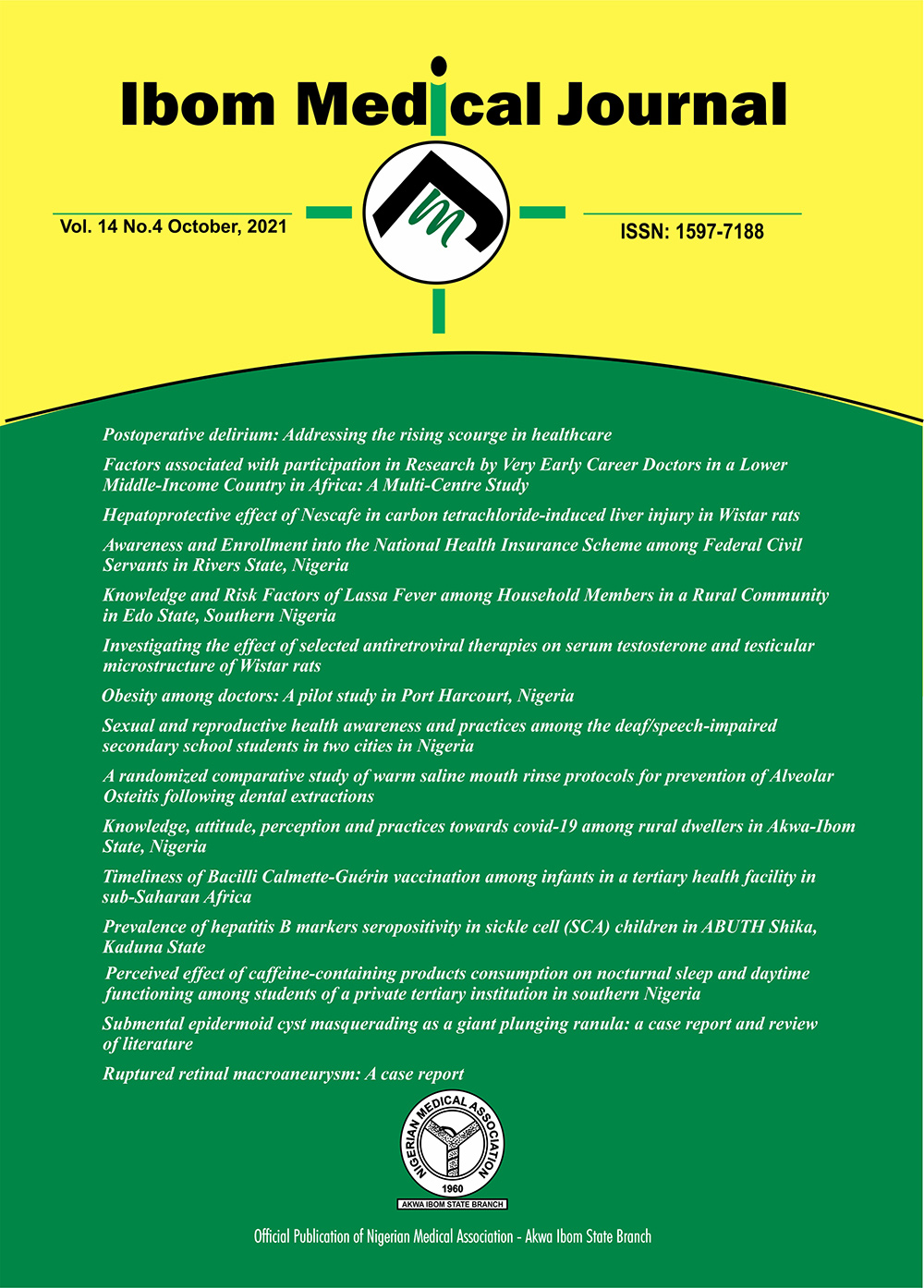 License
Copyright (c) 2021 Buowari DY, Adebiyi O, Bellgam HI, Edewor U, Agala V
This work is licensed under a Creative Commons Attribution 4.0 International License.