COVID-19 vaccine hesitancy among healthcare workers in Nigeria: A systematic review protocol
Abstract
Background: The COVID-19 pandemic has led to a significant change in society. Healthcare workers are at risk of contracting the novel virus while at work as it becomes a hospital-acquired infection, starting from the first wave of the pandemic. Healthcare workers can acquire and transmit the virus from the medical workplace to their households. Hence they must receive the COVID-19 vaccine. However, some healthcare workers have refused to get inoculated with the COVID-19 vaccine, exhibiting vaccine hesitancy. There are several reasons healthcare workers knowledgeable about vaccines refuse to receive them—this protocol is for a systematic review of hesitation towards the COVID-19 vaccine among healthcare workers in Nigeria.
Aim and Objectives: To investigate vaccine hesitancy among healthcare workers in Nigeria.
Methods and Analysis: This protocol followed the preferred reporting items for systematic review and meta-analysis (PRISMA-P) 2015 guideline and is registered with PROSPERO. The registration number is CRD42022365489. We will conduct an electronic search for pertinent papers in several databases, including Medline, Embase, Cochrane Central Library, Scopus, web of Science Citation Index, and African Index Medicus. The search period will be between March 7, 2021 to March 27, 2023, for published articles on healthcare professionals' hesitation to receive the COVID-19 vaccine.
Three independent reviewers will select the articles based on strict eligibility criteria, and a fourth reviewer will address any disagreement.
We will use the New Castle Ottawa scale to assess the risk of bias in the included studies and perform quantitative and qualitative synthesis. The former is for sufficiently similar studies, using Review Manager Version 5.3. While the latter will be conducted where variabilities exist among the studies.
Conclusion: Even though healthcare workers have more knowledge about the COVID-19 pandemic and the COVID-19 vaccine compared to the members of the public, some of them exhibit hesitancy towards the COVID-19 vaccine.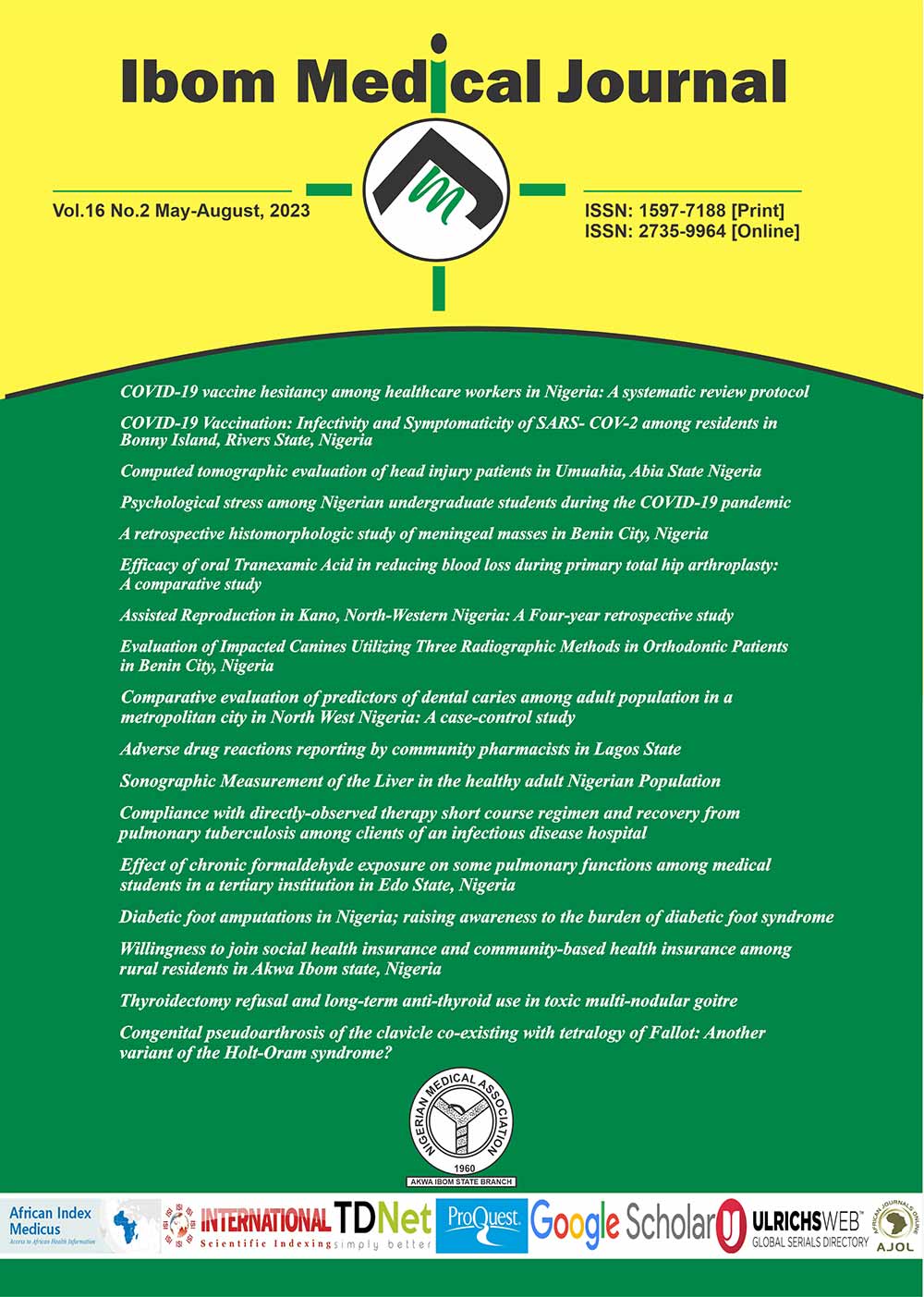 License
Copyright (c) 2023 Ibom Medical Journal
This work is licensed under a Creative Commons Attribution 4.0 International License.