Willingness to join social health insurance and community-based health insurance among rural residents in Akwa Ibom state, Nigeria
Keywords:
Willingness to join, social health insurance, community-based health insurance, rural residents
Abstract
Background: Universal Health Coverage seeks to ensure that all individuals have equitable access to quality health care with limited exposure to financial risk. Pooling of community members into health insurance schemes is necessary for the achievement of UHC. Most rural dwellers do not have health insurance and are susceptible to catastrophic health expenditure.
Objective: This study aims to determine the willingness of rural dwellers in Akwa Ibom state, Nigeria, to join health insurance schemes.
Methods: The study was conducted in three local government areas in Akwa Ibom State, Nigeria. It was a cross-sectional study with multi-stage data collection. Participants were 286 household heads. Data analysis was done using SPSS version 22 (New York), and statistical significance was set at 0.05.
Result: Majority of the household heads were 31-60years (71.0%), male (71.7%), had attained secondary education (43.0%), earned less than ₦20,000 (79.7%) and had spouses who earned less than ₦20,000 (72.0%). Only 30.1% had heard of health insurance, 2.5% belonged to a health insurance scheme. Majority of the respondents were willing to join a scheme, however, more participants were willing to join the proposed social insurance scheme (72.4%) than the community-based scheme (63.3%). Lack of funds and lack of trust were major barriers to joining a scheme. Frequency of illness was the only significant predictor of WTJ SHI (r= 0.141), while gender (r=0.186), educational level(r= -0.163), frequency of illness(r=0.142) and borrowing money for treatment(r=0.138) were significant predictors of WTJ CBHIS.
Conclusion: The study found low awareness of health insurance. There was high level of willingness to join the proposed health insurance schemes. Those not willing to join cited unaffordability as the major barrier to joining the schemes. We recommend increased awareness about health insurance schemes and policy makers should design schemes that will empower rural residents to uptake health insurance to achieve the goals of Universal Health coverage.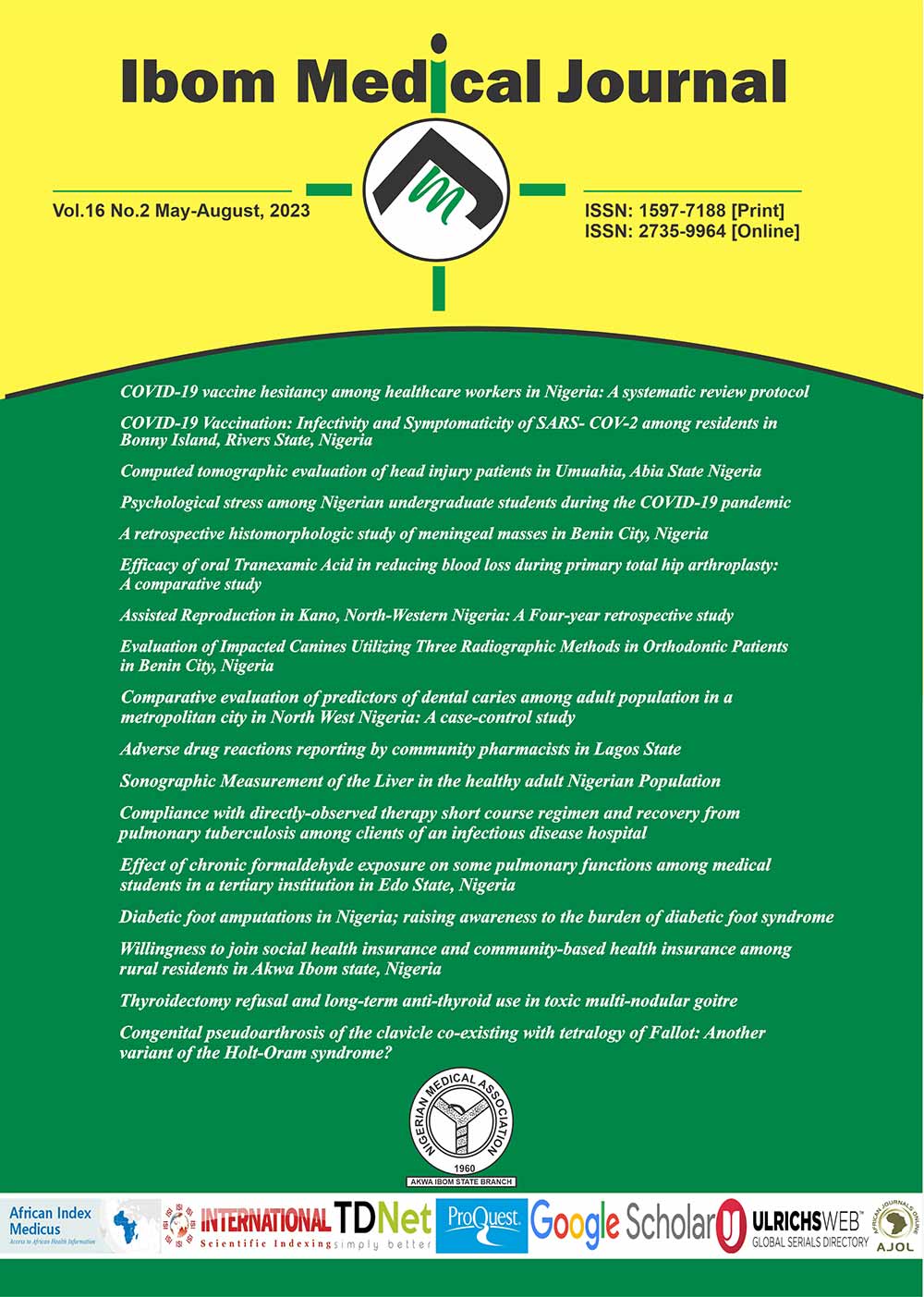 Downloads
License
Copyright (c) 2023 Ibom Medical Journal
This work is licensed under a Creative Commons Attribution 4.0 International License.