Scourge of Peripheral Artery Disease in a Low-Income-Setting: The Role of Vascular Surgery
Keywords:
Angioplasty, Endarterectomy, Thromboembolectomy, Bypass, Amputation
Abstract
Background: Peripheral artery disease (PAD) is a progressive disorder characterized by stenosis and/or occlusion of large and medium-sized arteries, other than those that supply the heart (coronary artery disease, CAD) or the brain (cerebrovascular disease). It is increasingly becoming a challenge in developing countries owing to poverty and ignorance.
Objective: To review the scourge of peripheral artery diseases in our institution in a low-income setting with a view to determining the role of a vascular surgeon.
Materials and method: Over a period of 15 years (2006 to 2021), patients with documented PAD were reviewed. Data of the patients were retrieved from the record department and such data included demography, aetiology/risk factors, clinical features and investigative parameters as well as modes of treatment especially vascular surgery.
Results: There were 35 patients which comprised 20 males and 15 females with male to female ratio of 4:3. Age range affected most was 71-80 years. Aetiologically, artherosclerosis was dominant. Leriche Fontaine classification used in clinical evaluation showed that type III was dominant. 6 Ps (pain, pulselessness, paralysis, paraesthesie, pallor and poikilothermia) of vascular ischemia were evident. Doppler/duplex ultrasound and computer angiography were used in diagnosis. Medical and or surgical treatments were used in patients' management. Vascular and or orthopedic surgery played significant role.
Conclusion: PAD affects the lower extremities more commonly than the upper extremity vessels especially in the elderly leading to intermittent claudicationn which is the most recognized symptomatic subset of lower extremity PAD. Morbidity and mortality emanating from inadequate revascularization are burden to emerging economy like ours.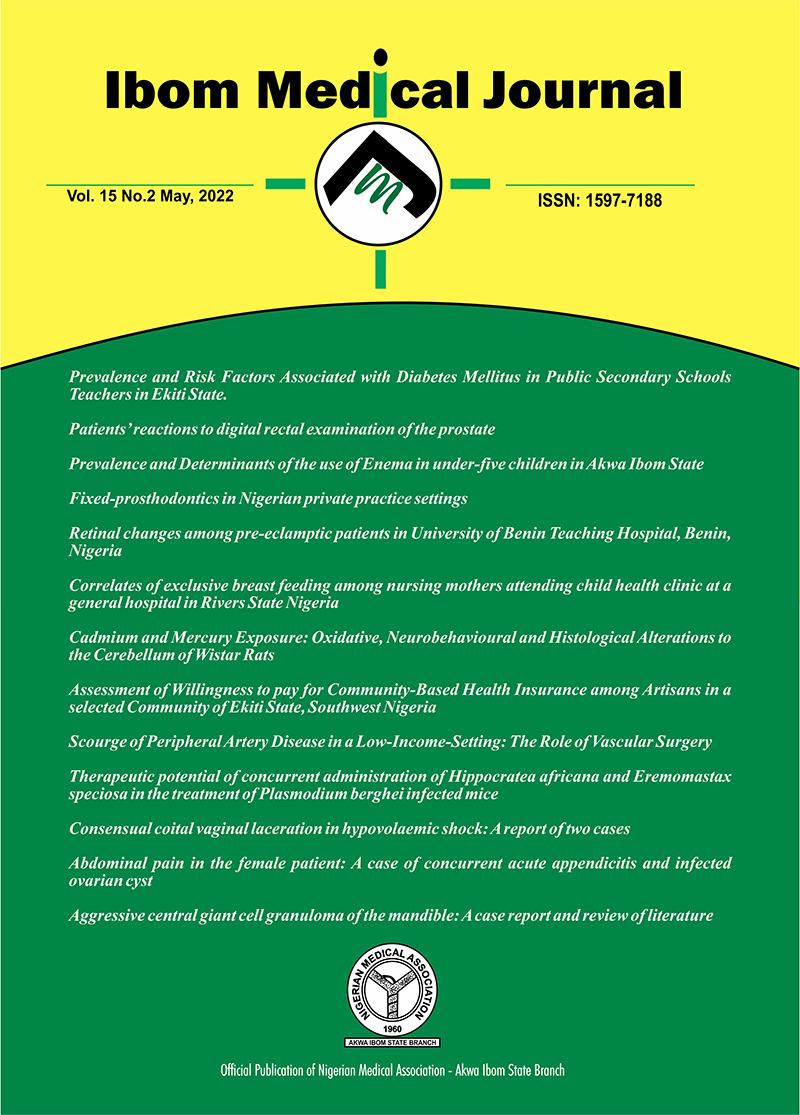 License
Copyright (c) 2022 Nwafor IA, Onoh US, Nsude IO
This work is licensed under a Creative Commons Attribution 4.0 International License.