Correlation between prostate size and age of patients evaluated for symptomatic benign prostatic hyperplasia
Keywords:
Prostate size (volume), Age, Benign prostatic Hyperplasia
Abstract
Background: Benign prostatic hyperplasia (BPH) is the commonest cause of bladder outlet obstruction (BOO) in middle age and elderly men. Prostate size increases as a man ages. It has been documented that age and androgens are the greatest risk factors for BPH progression. The size of the prostate can predict the future need and outcome of BPH–related surgery. The aim of this study was to correlate prostatic size (volume) with age of patients evaluated for symptomatic BPH.
Patients and method: This was a retrospective study of one hundred and ninety two (192) patients that were evaluated for BPH in two (2) urology centers in Nigeria between January 2018 and June 2019. Patient's bio-data, findings on history and physical examination, relevant laboratory and imaging studies, in particular, trans-rectal ultrasound reports of the prostate were collated and analyzed using the statistical package for social sciences (SPSS) version 20.0.
Results: 192 men with a mean age of 64.23±9.47 years were evaluated. Majority of the patients presented in their 7th decade of life. Mean prostate volume was 67.59±45.70mls while mean prostate specific antigen (PSA) was 4.76±4.59ng/ml. Correlation between prostate volume and age was weak; r(192) = .172, P<0.05. Conclusion: Prostate size (volume) in our cohort of patients showed a weak correlation with age.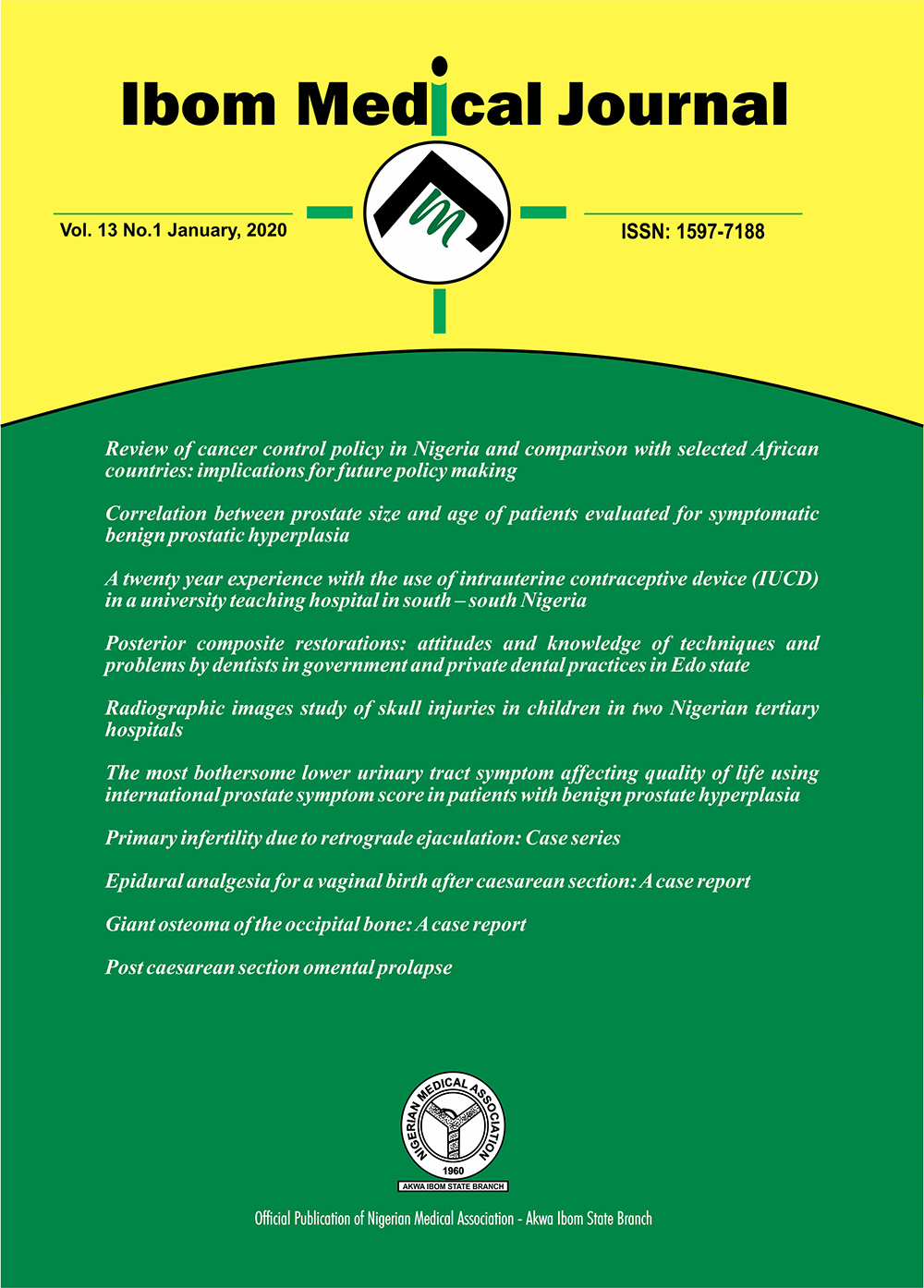 License
Copyright (c) 2020 Ibom Medical Journal
This work is licensed under a Creative Commons Attribution 4.0 International License.