The most bothersome lower urinary tract symptom affecting quality of life using international prostate symptom score in patients with benign prostate hyperplasia
Keywords:
Lower urinary tract symptoms, Quality of life, International prostate symptom score, Benign prostatic hyperplasia
Abstract
Background: Benign prostate hyperplasia (BPH) is a well known disease of the elderly and aging males. It is an adenomatous growth of the prostate arising mostly from the transitional zone and causing varying degree of bladder outlet obstruction that manifests as lower urinary tract symptoms (LUTS). The degree of bother of these symptoms can affect health-related quality of life of the patients. The aim of this study was to determine the most bothersome LUTS affecting quality of life using International prostate symptom score (IPSS) in patients suffering from BPH.
Patients and method: This was a prospective study of eighty nine (89) men who were being evaluated for BPH between January 2018 and December 2018. They all the met inclusion criteria. Detailed history, physical examination and laboratory investigations were done and all patients had trans-rectal ultrasound examination of the prostate.
Results: The mean age of the patients was 64.02± 9.60years while the mean prostate volume was 64.94± 42.95mls. Mean IPSS was 14.47±  5.28 and that of Qol was 4.55± 3.81 while mean total irritative symptoms was 9.90± 2.51, mean total obstructive symptoms was 4.56±3.81.  Correlation between Qol and IPSS was strongly positive and statistically significant: r (89)= .639, P<.05. For the individual symptoms, nocturia correlated more with QOL: r (89)= .537, P<.05 with a coefficient of determination (R2)  of 28.8%.
Conclusion: Nocturia correlated more with quality of life and was noted as the most bothersome lower urinary tract symptom affecting Qol in our study.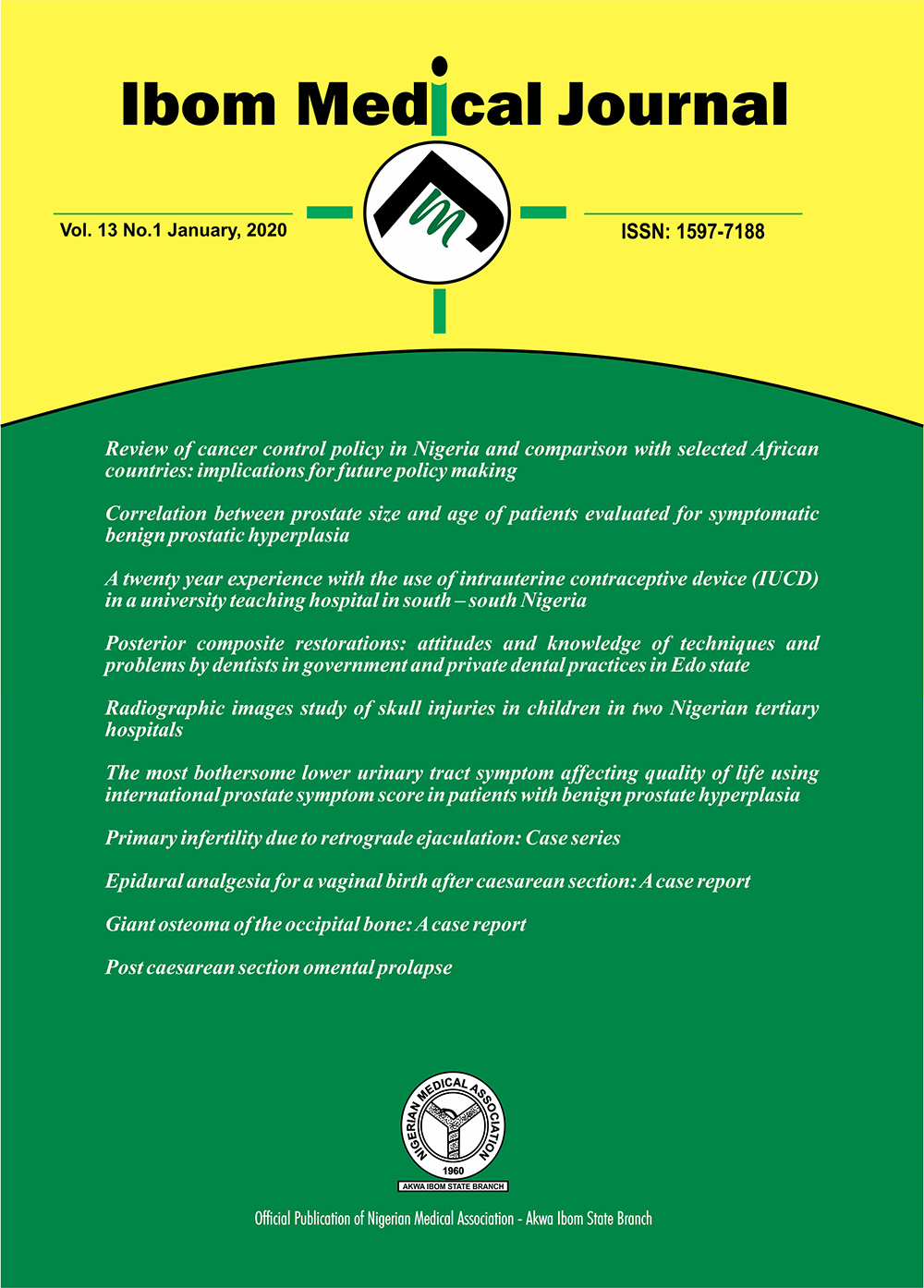 License
Copyright (c) 2020 Ibom Medical Journal
This work is licensed under a Creative Commons Attribution 4.0 International License.