An appraisal of ascitic fluid cytopathology in a Nigerian tertiary care setting
Keywords:
Ascitic fluid, Aspirate, Cytopathology, Benin CityAscitic fluid, Aspirate, Cytopathology, Benin City
Abstract
Background: The pathological accumulation of excess fluid in the peritoneal cavity is termed ascites. It is important to include cytological examination in the overall evaluation of ascitic fluid, so as to help make a distinction between malignant and non-malignant ascites in the management of patients.
Aims and objectives: To appraise the practice of ascitic fluid cytopathology in the University of Benin Teaching Hospital (UBTH), Benin City.
Materials and methods: Ascitic fluid specimens received at the department of Anatomical Pathology, UBTH, over a 5-year period (2015-2019), were examined macroscopically and centrifuged. Smears were made of the sediments on glass slides and stained with rapid Romanowsky, haematoxylin/eosin and Papanicolaou stains for cytopathological (microscopic) examination by consultant pathologists.
Results: A total of 262 ascitic fluid specimens were analysed during the 5-year study period. One hundred and four (39.7%) of the specimens were from males while 158 (60.3%) were from females, giving a male to female ratio of 1:1.5. The age range of the patients was 0.5 – 87years. The mean age was 44.8years. The modal age group was the 40-49 year age group (22.6%). Forty-five (17.2%) smears contained malignant cells, 29 (11.1%) were suspicious for malignancy, 108 (41.2%) were negative for malignant cells, and 80 (30.5%) were unsatisfactory.
Conclusion: Ascitic fluid cytopathology remains a relevant modality for the prompt evaluation of patients with clinically detectable ascites in our setting.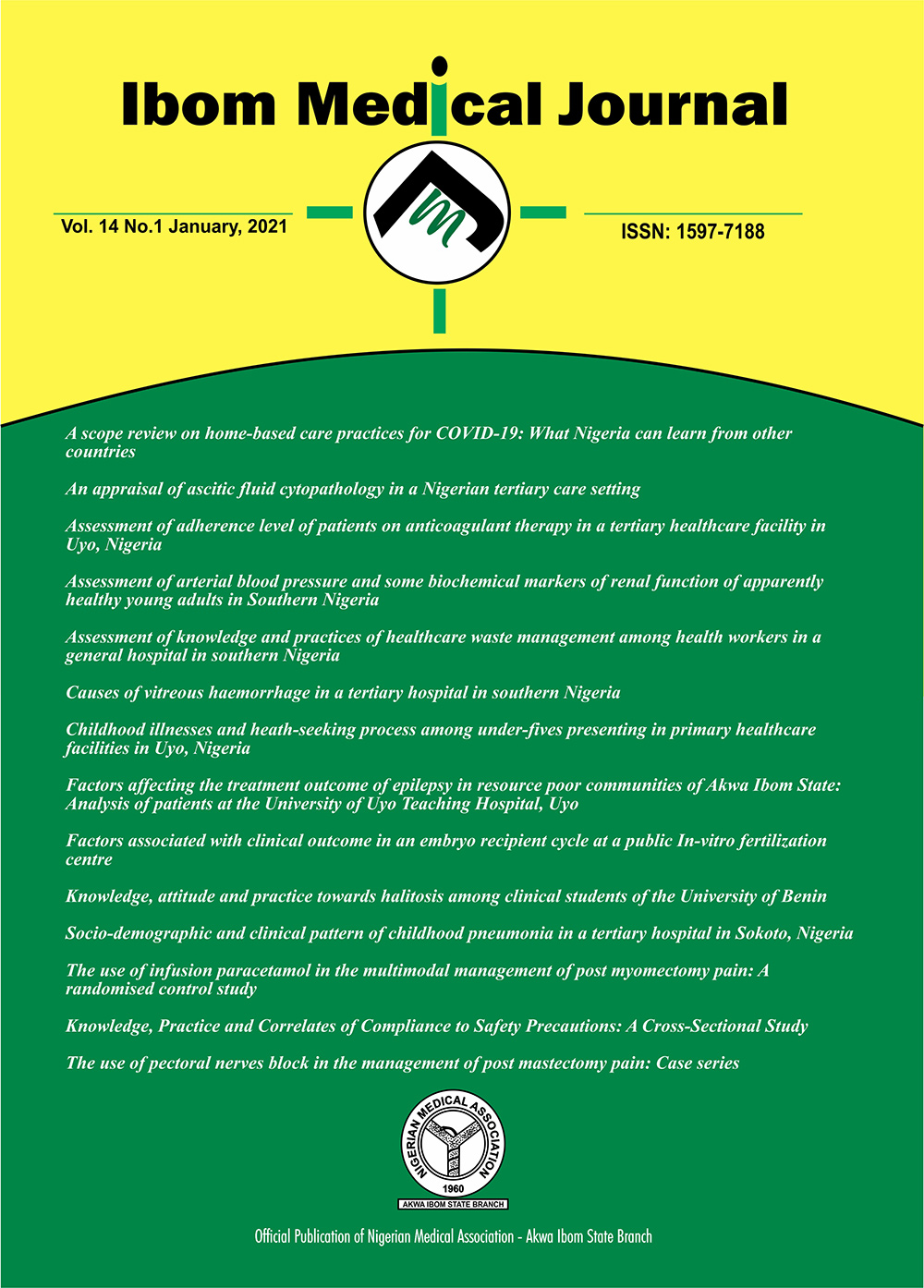 License
Copyright (c) 2021 Ibom Medical Journal
This work is licensed under a Creative Commons Attribution 4.0 International License.