Causes of vitreous haemorrhage in a tertiary hospital in southern Nigeria
Keywords:
Vitreous hemorrhage, Proliferative retinopathies, Trauma, Visual loss
Abstract
Background: The presence of blood within the vitreous is called vitreous hemorrhage. This condition often obscures proper visualization of the posterior segment. Thus, the etiology may not be easily ascertained from clinical assessment. However, it is necessary to know the underlying etiology of this condition in order to institute appropriate management plans.
Aim: To determine the causes of vitreous hemorrhage in a tertiary hospital in Southern Nigeria.
Materials and Methods: A retrospective hospital-based analysis of the medical records of patients with vitreous hemorrhage from January 2011 to December 2015 was performed. Data reviewed included age, sex, duration of symptoms, visual acuity, investigations and cause of vitreous hemorrhage. Data were analyzed using the International Business Machines Statistical Product for Scientific Solutions (IBM SPSS) version 21.
Results: A total of 37 eyes of 37 patients had a diagnosis of vitreous hemorrhage made up of 27(73%) males and 10(27%) females with a male/female ratio of 1: 0.37 and a mean age of 46.3± 18.4 years (range 11 to 80 years). The presenting visual acuity ranged from 6/9 to No Light perception. The two most common causes of vitreous hemorrhage were proliferative retinopathies in 11(29.7%) and trauma 11(29.7%). Diabetic retinopathy was the predominant cause in the proliferative retinopathy 8(21.6%) group. The mean duration of symptoms was 8.7± 7.8days (range 1 to 28 days). The most common investigation requested was B-scan ultrasonography in 19(51.4%) patients.
Conclusion: The most common causes of vitreous hemorrhage in this environment are largely preventable with better management of systemic medical and ophthalmic conditions. Early presentation, regular screening with prompt intervention when treatment is indicated would lead to better outcome.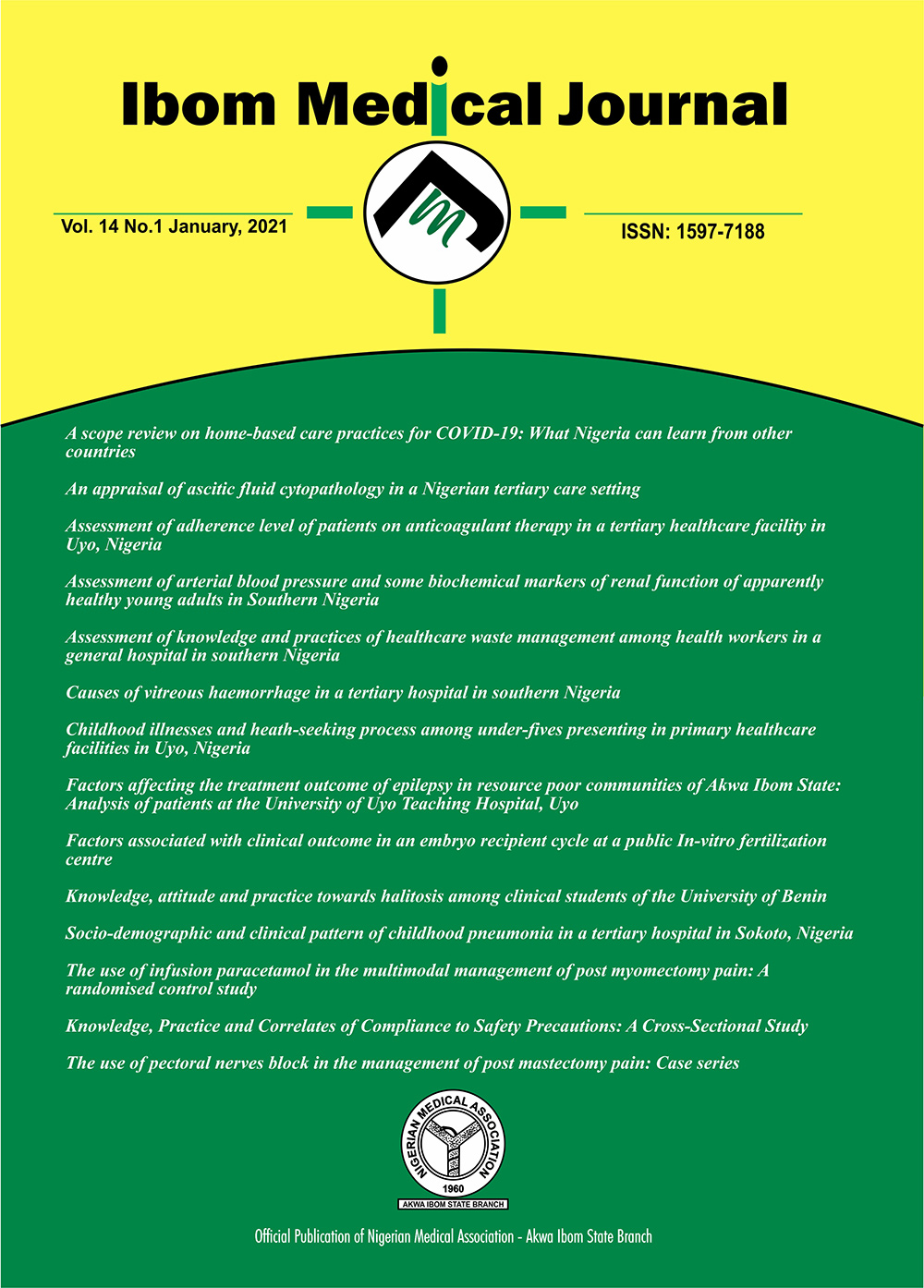 License
Copyright (c) 2021 Ibom Medical Journal
This work is licensed under a Creative Commons Attribution 4.0 International License.