The distribution of abo and rhesus blood groups in University of Uyo Teaching Hospital (UUTH), Uyo, Nigeria
Abstract
Background: The University of Uyo Teaching Hospital (UUTH), Uyo is a tertiary health institution which serves the health needs of the people of Akwa Ibom State and beyond.  Blood transfusion service is one of the most important health services provided by UUTH. Organized, efficient and safe blood transfusion practice needs data in blood group serology. This study was carried out because of lack of research based data on human blood group system in UUTH, Uyo and Akwa Ibom State.    
Materials and Method: The study is retrospective. Patients' ABO and Rhesus blood group registers in the blood bank of UUTH, Uyo, were reviewed from the year 2000 (when in 2000?)  31st May 2006. The total number reviewed was 10,552.
Results: From the 10,552 patients records reviewed for the ABO blood group, blood group O was the the most common with 5,919 (56.10%), followed by blood group A with 2,645 (25.07%), while blood group B was third with 1,728(16.386) and lastly blood group AB with 259 (2.45%). The distribution of Rhesus antigen shows that Rhesus D positive was the highest with 10,203 (96.68%) while Rhesus D Negative was the lowest with 349 (3.30%).
Conclusion: The baseline data from this study which is in keeping with the observed trend in other studies in Nigeria, hopefully, would assist in the planning and running of an organized, efficient and safe blood transfusion service in UUTH, Uyo and in Akwa Ibom State, Nigeria.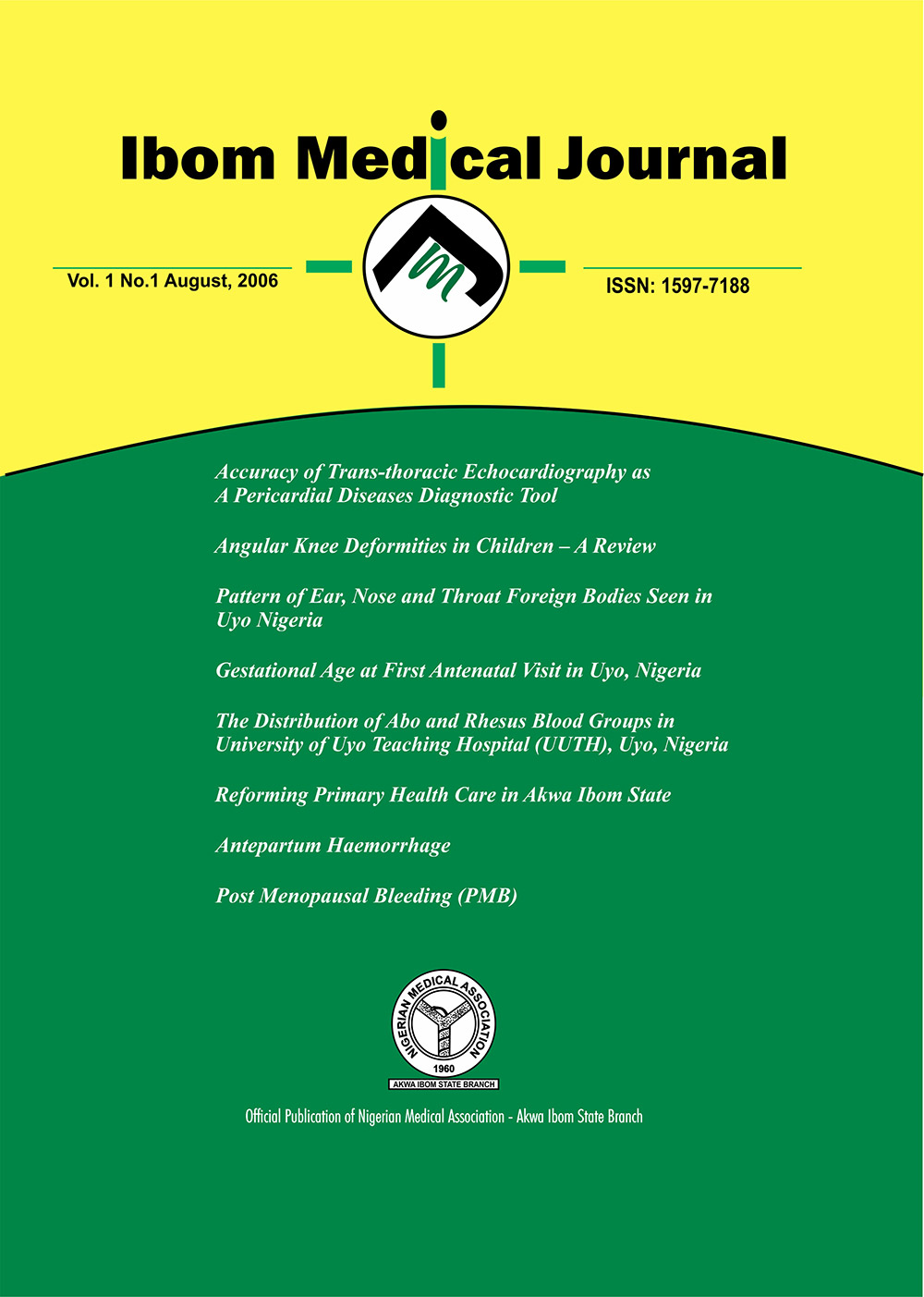 License
Copyright (c) 2006 Ibom Medical Journal
This work is licensed under a Creative Commons Attribution 4.0 International License.