Adverse drug reactions reporting by community pharmacists in Lagos State
Abstract
Background: Spontaneous Adverse Drug Reaction (ADR) reporting is the cornerstone of Pharmacovigilance. It is very important that pharmacists are alert to potential adverse drug reactions and drug interactions. The contribution of community pharmacists towards ADR reporting in four regions of Lagos state, Nigeria was studied.
Objective: The main aim of the study was to assess the knowledge, attitude and behaviour of community pharmacists to ADR and its reporting.
Method: This questionnaire based survey was conducted over a period of four months in 30 community pharmacies each (120 respondents) in four areas of Lagos state (Ikorodu, Victoria Island, Surulere and Ikeja). The developed questionnaire contained sections on the demographic details of the pharmacists, knowledge, perception and evaluation of the pharmacists on ADR and its reporting, and factors influencing ADR reporting. The data obtained was entered unto Microsoft Excel and analysed using frequency and percentage.
Results: Over 96% agreed that the spontaneous reporting of suspected ADRs is necessary for pharmacovigilance. The analysis showed that the pharmacists had good knowledge of ADRs but the reporting rate was only 24.2%. This means that though the pharmacists were knowledgeable about ADRs, they were not putting its reporting into practice due to several reasons.
Conclusion: The knowledge of ADRs and its reporting by community pharmacists in Lagos state needs to be improved upon. Continuous education, training and integration of ADR reporting into the clinical activities of the pharmacists by the Pharmacovigilance centre and other relevant personnel would improve reporting.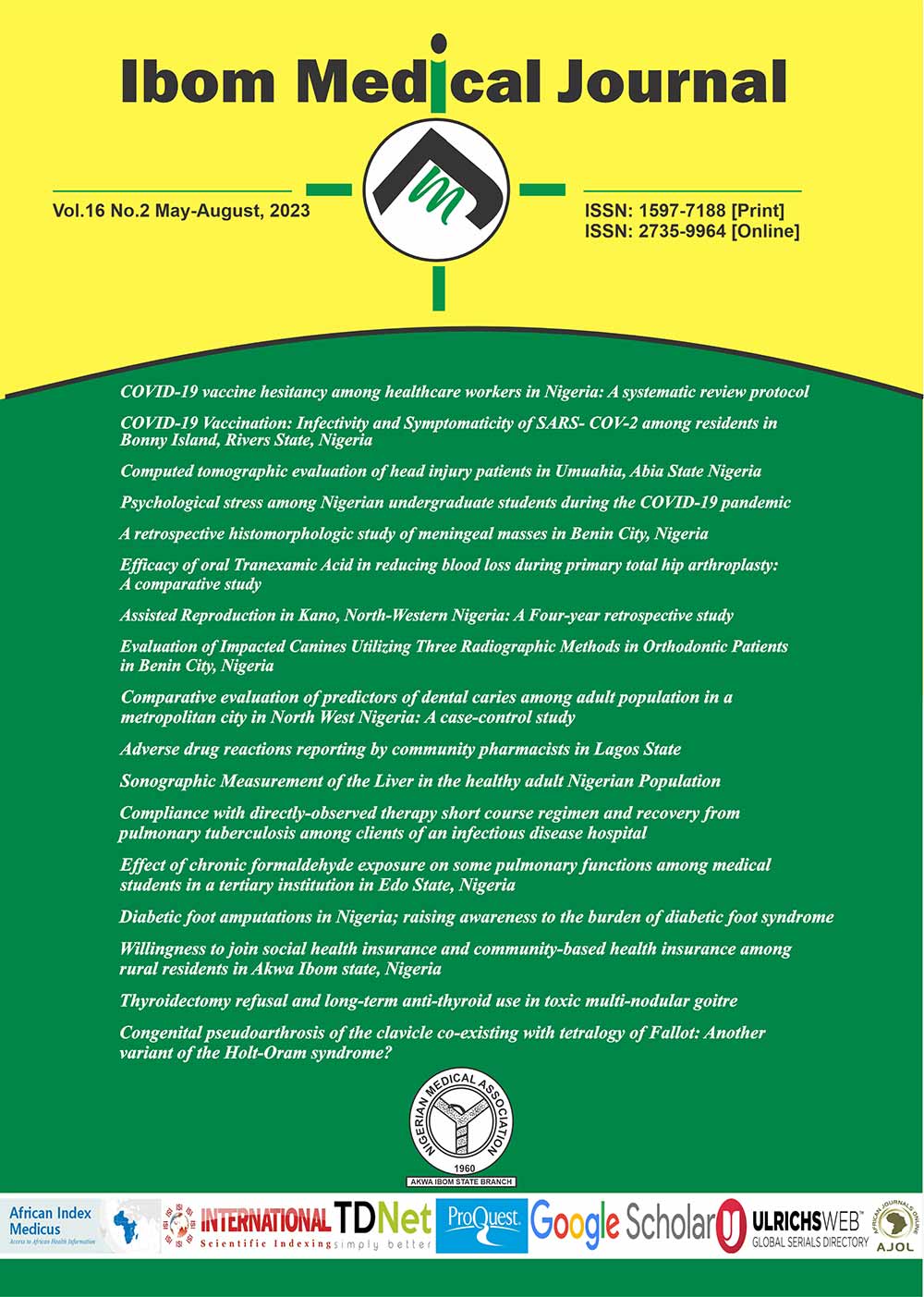 Downloads
License
Copyright (c) 2023 Ibom Medical Journal
This work is licensed under a Creative Commons Attribution 4.0 International License.