Efficacy of oral Tranexamic Acid in reducing blood loss during primary total hip arthroplasty: A comparative study
Keywords:
Oral tranexamic acid, Intravenous tranexamic acid, Total hip arthroplasty, Perioperative blood loss
Abstract
Background: Perioperative blood loss is a major concern for patients undergoing total hip arthroplasty. Intravenous Tranexamic acid is commonly used to reduce blood loss and need for blood transfusion following total hip replacement. Recent studies have shown the efficacy of oral tranexamic acid in reducing perioperative blood loss in total hip replacement.
Method: A total of 69 patients undergoing primary total hip replacement in National Orthopaedic Hospital, Igbobi, Lagos, were recruited. Patients were randomized to receive 2gram oral tranexamic acid 2hours before incision or 1-gram intravenous tranexamic acid 10minutes before incision. Primary outcome measure was reduction in haemoglobin concentration.
Results: There was no significant difference in mean reduction in haemoglobin concentration in the oral tranexamic acid group compared to intravenous tranexamic acid group (3.78g/dl ±1.27 and 3.61g/dl ±0.54 respectively, P- 0.49). There was no significant difference between total blood loss and requirement for blood transfusion in the two groups.
Conclusion: Oral and intravenous routes of tranexamic acid administration have comparable efficacy in reducing blood loss and requirement for blood transfusion. Oral tranexamic acid is cheaper, easier to administer and should be considered as a safe and effective alternative to intravenous tranexamic acid.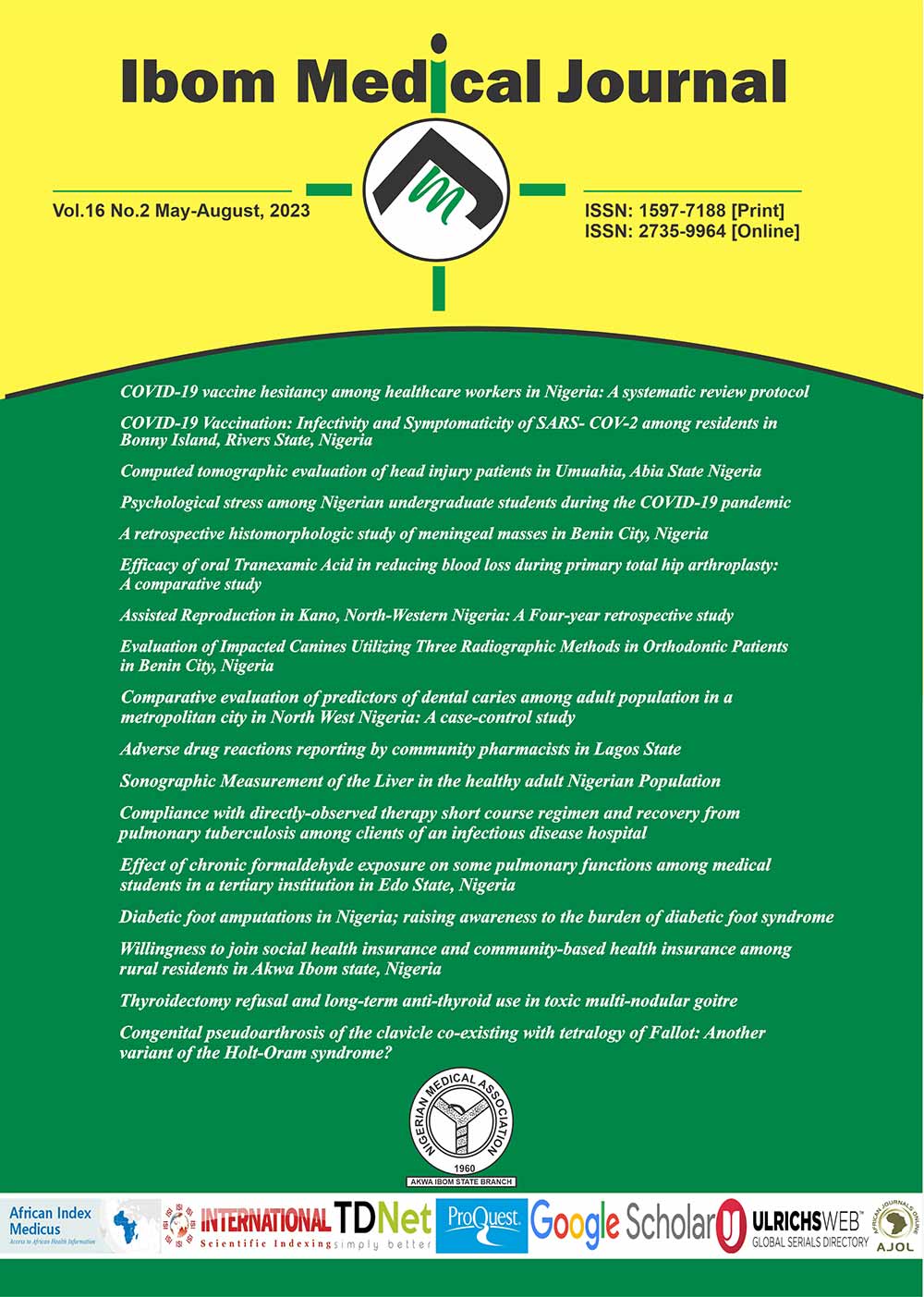 Downloads
License
Copyright (c) 2023 Ibom Medical Journal
This work is licensed under a Creative Commons Attribution 4.0 International License.