Fixed-prosthodontics in Nigerian private practice settings
Keywords:
Dentistry, Fixed-prosthodontics, Private practice, Nigeria
Abstract
Context: Private practice dentistry is predominant in Nigeria. Audits of fixed-prosthodontic practice in these settings are rare and will highlight capacity and guide training. This study aimed to assess the scope and quality of fixed-prosthodontic practice in such settings in Nigeria.
Objectives: The study sought to assess:
Participants' sociodemographic and their diagnostic and preoperative practices.
The quality of impression making and operative technique, reviews and maintenance, temporization
practices and communication with the laboratory.
The range of treatments given and provision of advanced treatments.
Materials and Methods: An adapted questionnaire was administered electronically on Nigerian dentists practicing fixed-prosthodontics in private practice settings. Retrieved data underwent descriptive statistics and associations were tested with the Fischer's Exact and Chi-Square tests using IBM SPSS Statistics version 21. Statistical significance was set at p≤0.05.
Results: A total of 100 valid responses with a male:female ratio of 2.1:1 from 16 states were retrieved. Fifty-nine participants had only first degrees and mean experience was 14.3±9.5 years. There were 27 adequate responses with regards to range of treatments offered. Sixty-three participants practiced direct temporization. Twenty-one and 14 participants regularly practiced implantology and CAD/CAM dentistry respectively. Direct temporization was significantly associated with increasing education (X2=6.03, p=0,05) and experience (X2=13.2, p=0.03).
Conclusion: Only a few Nigerian dentists in private practice gave an adequate range of treatment. Most of them prefer direct temporization. Implantology and CAD/CAM dentistry practice are improving, but are still not very common.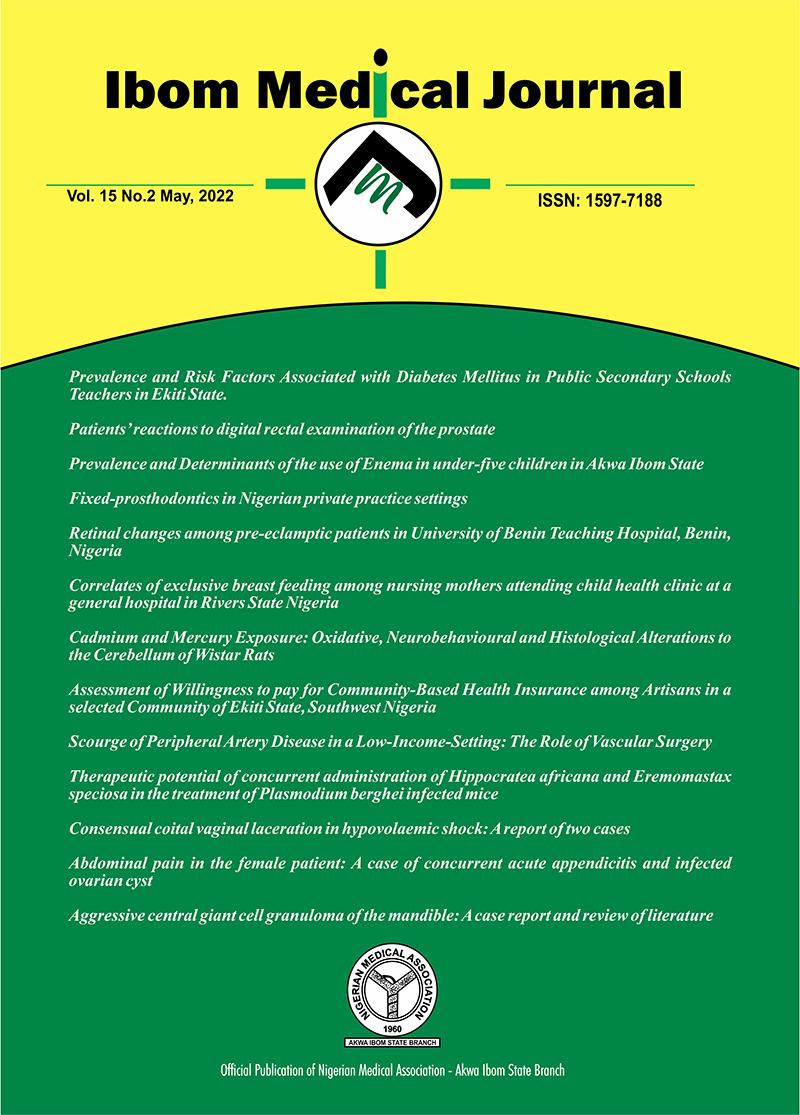 License
This work is licensed under a Creative Commons Attribution 4.0 International License.