Prevalence and Risk Factors Associated with Diabetes Mellitus in Public Secondary Schools Teachers in Ekiti State
Keywords:
Prevalence, Diabetes Mellitus, Teachers, Ekiti State
Abstract
Background: Diabetes Mellitus is a non-communicable disease and a leading cause of morbidity and mortality in the world. The estimated prevalence of diabetes in Africa is 1% in rural areas and ranges from 5% to 7% in urban sub-Saharan Africa. 3 Nigeria is the most populous country in African and she contributes about one sixth of the Africa's diabetic population. This study is aimed at determining the prevalence of diabetes mellitus and accessing its risk factors among public secondary school teachers in Ekiti State.
Methodology: This survey is a cross-sectional study carried out among 357 public school teachers in Ekiti State using a multi stage sampling technique. Data was gathered using a semi structured questionnaire and Accu Check Glucometer machine for Fasting Blood Sugar. Analysis was done using SPSS version 23 and level of significance was taken as P = 0.05.
Result: Mean age was 42.9±9.2 years. Prevalence of Diabetes Mellitus was 5.6%. Family history (15%), Alcohol intake (14.0%) and smoking (11.2%) were major risk factors in the respondents. Poor vision is the main complication being experienced by the respondents (40.3%). Predictors of Diabetes Mellitus as found by this study include increasing age (starting from above 40years), cigarette smoking, alcohol intake and positive family history.
Conclusion: Prevalence of Diabetes Mellitus is high compared to what it was before. Alcohol intake, smoking and family history were major risk factors while poor vision is the commonest complication. It is recommended that all efforts must be made to put in mechanism that will halt this undesired progression through control of risk factors.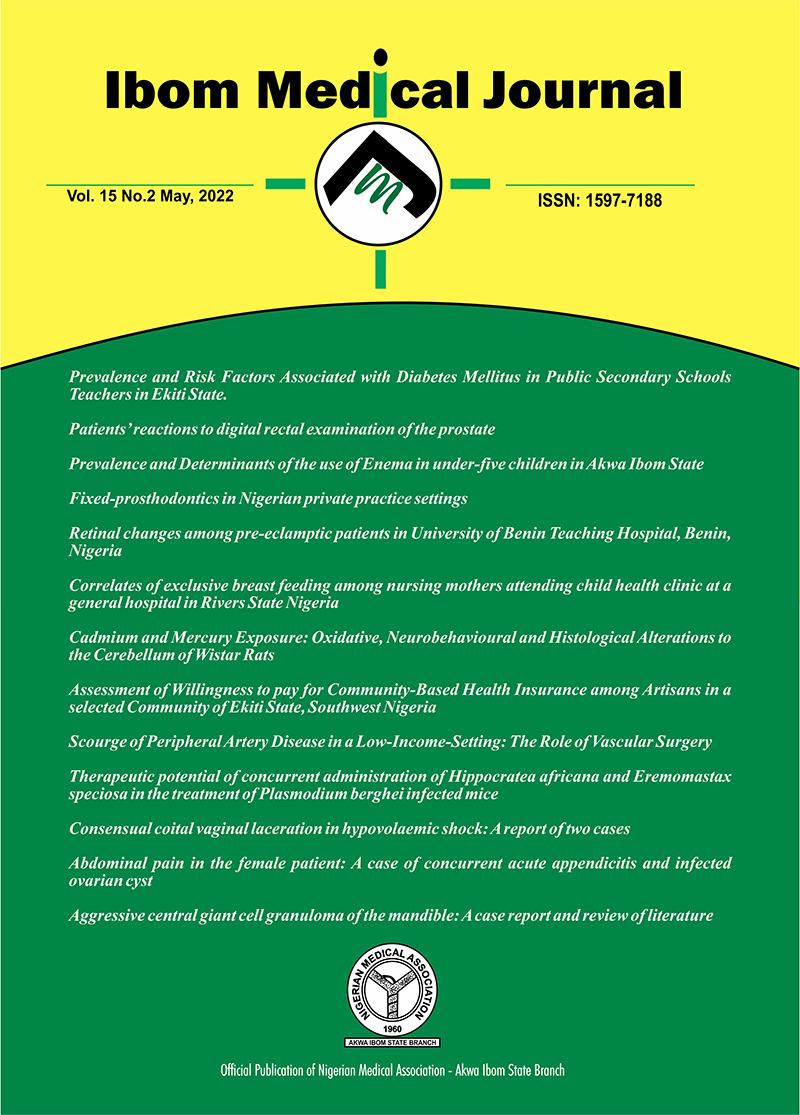 License
Copyright (c) 2022 Elegbede OE, Sanni TA, Alabi AK
This work is licensed under a Creative Commons Attribution 4.0 International License.