A quality improvement project to reduce waiting time and improve patient's satisfaction in a private hospital in Lagos, Nigeria
Keywords:
Waiting time, Outpatient, Patient satisfaction
Abstract
Background: Patient satisfaction has become an important factor in assessing the quality of health care. One factor that influences patient satisfaction is waiting time-- how long a patient waits during a visit to a health care facility.
Objectives: To measure the time spent at each component of a patient's visit to the hospital and its correlation with patient's satisfaction. To reduce long waiting times in our outpatient Clinic by 20%.
Methods: The Reducing Waiting Time Working Group was formed to tackle the waiting time problem in the outpatient Clinic in a private hospital in the highbrow area of Lagos. Extensive literature was searched and reviewed, brainstorming and discussions were carried out and strategies were developed for reducing the outpatient waiting time and improving patient's satisfaction. Baseline data on the waiting time and patient satisfaction was carried out for one week in February 2012. A series of implementations were carried out sequentially including triaging system and assignment of a clinic manager to monitor people in the waiting area every 2 hour and a 24-hour call system.  A repeat/intervention survey was carried out in May 2012 for a week i.e. three months after the introduction of the intervention.
Results: One hundred and twenty four (93.9%) patients responded adequately in the baseline survey and two hundred and eighty (95.2%) patients in the intervention group and were analysed. The patients waited 21.1 minutes to see a doctor in the baseline study which improved to 14.7 minutes with the intervention. Patient satisfaction also improved from 68.6% in the baseline group to 83.1% in the intervention group. The total waiting time also significantly improved from 142 minutes to 108 minutes. There was also a significant improvement in patients' satisfaction.
Conclusion: The sequential introduction of a triage system, assignment of a clinic manager to monitor patient's waiting time and a 24 hour call system reduced waiting time in the outpatient clinic and significantly improved patient satisfaction.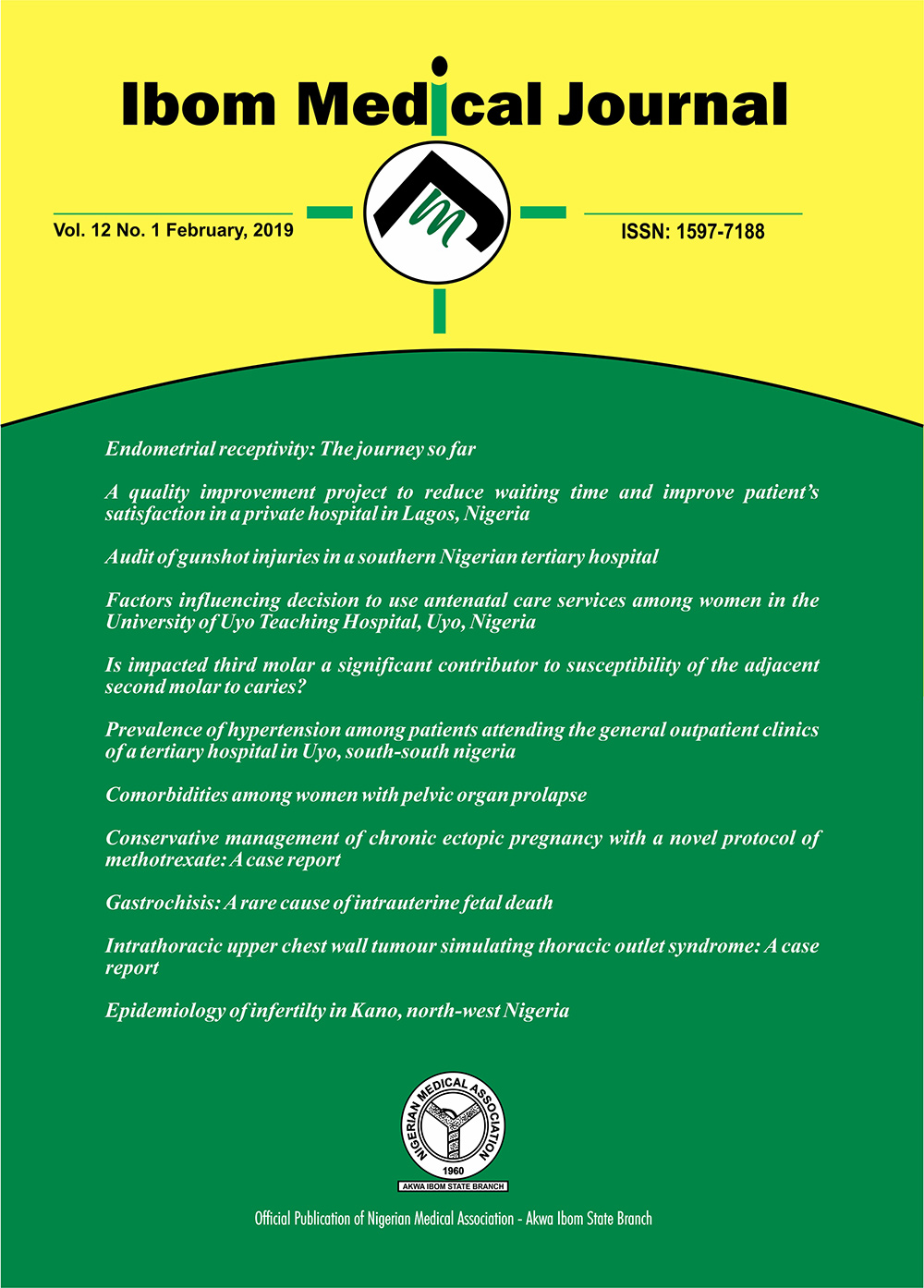 License
Copyright (c) 2019 Ibom Medical Journal
This work is licensed under a Creative Commons Attribution 4.0 International License.