Prevalence of hypertension among patients attending the general outpatient clinics of a tertiary hospital in Uyo, south-south Nigeria
Keywords:
prevalence, hypertension, adults, Uyo, Nigeria
Abstract
Background: Hypertension is an important public health challenge worldwide. It is the most common cardiovascular disease, and the most important modifiable risk factor for cardiovascular, cerebrovascular and renal diseases.
Objective: The aim of the study was to determine the prevalence of Hypertension among adult patients attending the General Outpatient Clinics of the University of Uyo Teaching Hospital
Uyo, South-South Nigeria
Materials and Methods: A cross-sectional study of three hundred and eighty-five (385) adults (18 years and above) attending the General Outpatient Clinic of the University of Uyo Teaching Hospital, Uyo, Nigeria, was carried out between March and June, 2013. The study subjects were administered Semi- structured questionnaires which sought information on socio-demographic characteristics and the presence or absence of hypertension. Data analysis was done using the Statistical Package for Social Sciences (SPSS) version 20.0.
Results: The study subjects consisted of 166 males and 219 females (male: female = 1:1.3). The mean age of respondents was 37.7 years with a standard deviation of 14.4. The overall prevalence of hypertension was 30.1%.
Conclusion: The prevalence of hypertension is high. There is need for continuous public enlightenment on preventive measures by health care givers to reduce the prevalence of this silent but deadly disease.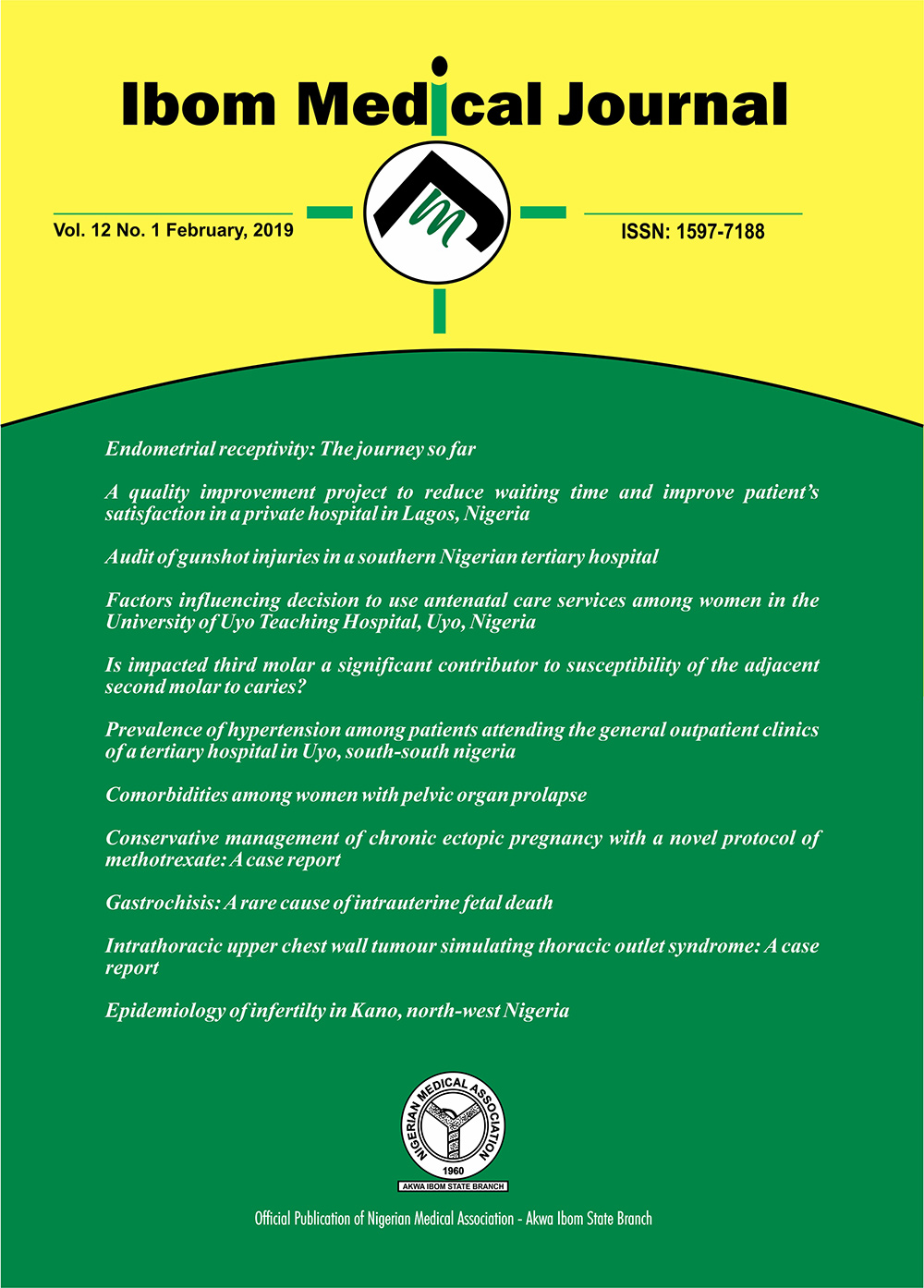 License
Copyright (c) 2019 Ibom Medical Journal
This work is licensed under a Creative Commons Attribution 4.0 International License.