Review of cancer control policy in Nigeria and comparison with selected African countries: Implications for future policy making
Keywords:
cancer, policy making, Nigeria, public health, global health
Abstract
Context: The public health importance of cancers in Nigeria is emerging. Robust cancer control policies are needed at all levels of government, especially the state.
Objective: To review cancer control policies in Nigeria, especially regarding breast and cervical cancers, with emphasis on policy development process, scope and policy implementation. Also to compare Nigerian cancer control policy with selected African countries and suggest ways through which Nigerian states, such as Abia, can develop evidence-informed, patient-centered cancer control policy.
Methods: A structured literature search was done using relevant subject headings and keywords. Boolean operators 'and'/'or' were used to refine the search. Databases searched were Pubmed/Medline, Embase, PsychInfo, Cinahl, Global Health and ERIC. The search included articles published between 2008 and 2018. Data was also collected from the International Cancer Control Plan portal as well as focused Google search.
Results: Of the 194 abstracts retrieved, only 29 were included in this review. The 2018 Nigerian National Cancer Control plan (NCCP) showed significant improvement over the 2008 version, in terms of scope and policy development process. Literature search did not reveal any state-level comprehensive cancer control policy. The Nigerian policy lacked specific guidelines for breast cancer compared with the Ghanaian policy. Ghana allocated 12% of total budget to cancer research compared to 0.4% in Nigeria. The South African Breast Cancer policy was developed using more findings from local research and had the most encompassing, multiple perspectives approach.
Conclusion: Review shows the content, process, pearls and pitfalls of cancer control policy from Nigeria and five other African countries. Findings will inform the strategy for developing cancer control framework states in Nigeria and other countries. As more Nigerian states work towards developing state cancer control plans, it is important to address the shortfalls identified in the current NCCP, especially regarding the use of multiple perspectives analysis.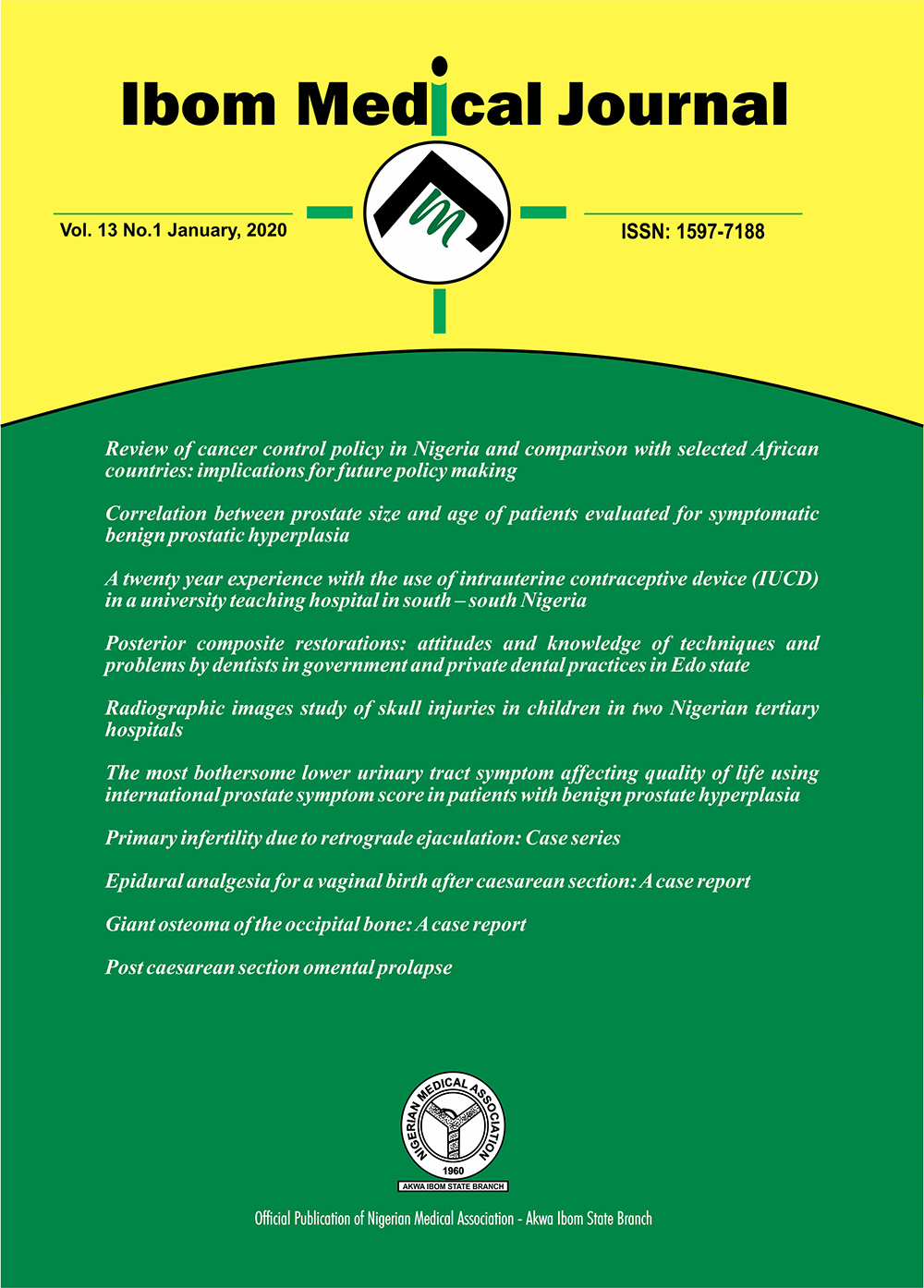 License
Copyright (c) 2020 Ibom Medical Journal
This work is licensed under a Creative Commons Attribution 4.0 International License.