Radiographic images study of skull injuries in children in two Nigerian tertiary hospitals
Keywords:
Skull injury, children, radiographic images, tertiary hospital, Nigeria
Abstract
Context: Children skull injury is one of the most common types of trauma to the head, and epidemiological data available vary in the percentage and distribution of the occurrence in age groups and sexes.
Objectives: This study was to investigate the incidence of trauma in children skulls based on two tertiary hospitals records, the University of Calabar Teaching Hospital (UCTH) and the University of Uyo Teaching Hospital (UUTH) in two South-South States of Nigeria.
Study Design: Skull injuries in children of 0-13 years of age for a period of five years were studied. The incidence, etiology, age and sex distribution of children skull injuries were assessed.
Results: Of a total of 135 children diagnosed of head injuries, only 13 (9.6%) cases were actual skull injuries. The UUTH had a higher record (11 cases, 84.6%) of skull injuries, and the most common etiology were road/pedestrian accidents (30.8%). It was also observed that the older children (10-13 years) had the highest frequency of injury, with the females (61.5%) being the most affected, while the frontal bone (38.4%) and linear skull fracture (46.2%) were the most affected part and injury type, respectively.
Conclusion: The incidence of skull injury was low in the study period; however, other parameters conformed to already reported cases.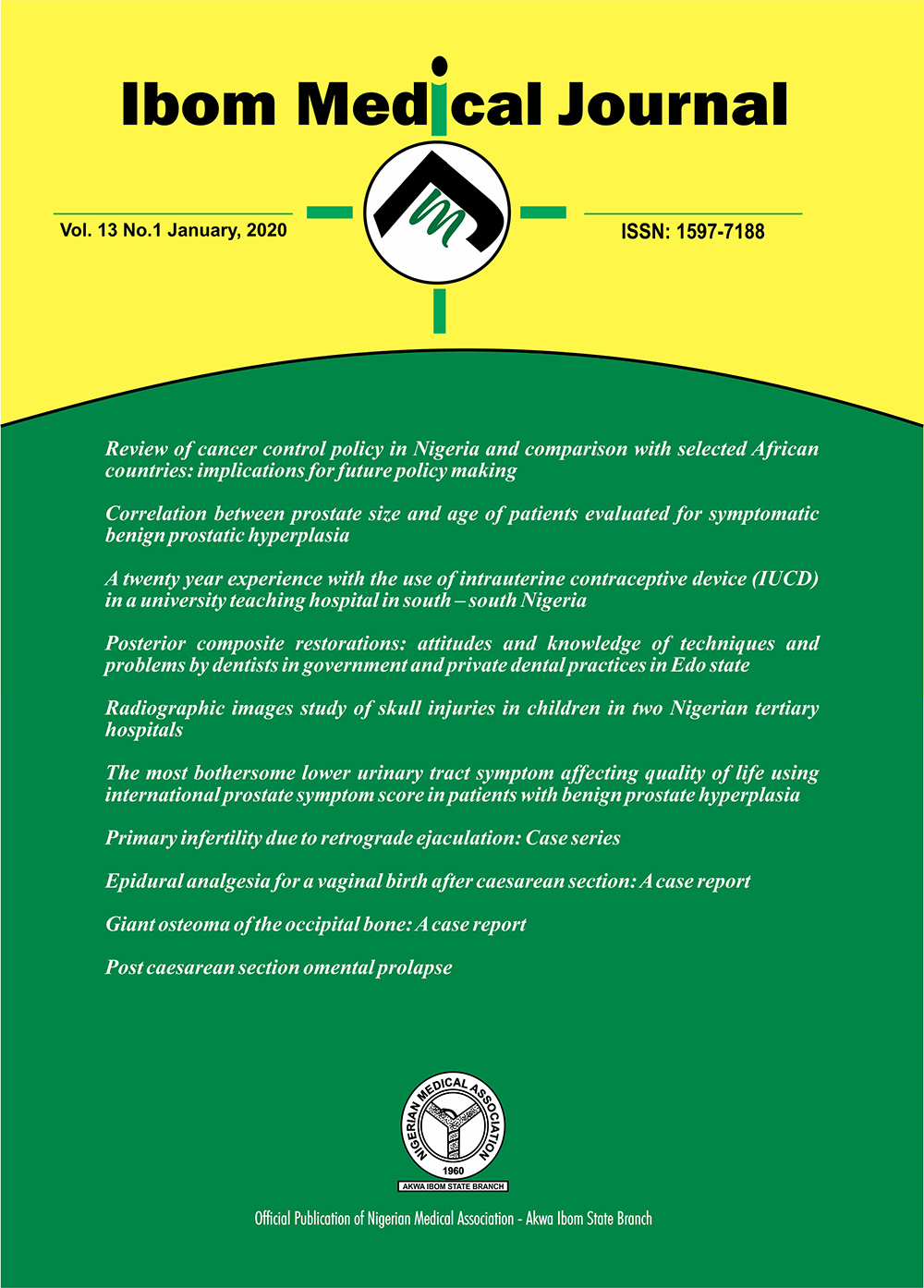 License
Copyright (c) 2020 Ibom Medical Journal
This work is licensed under a Creative Commons Attribution 4.0 International License.